One last hot shower, one last look in the mirror, one last time using an outlet before it leaving into the icy wilderness for five days. At 5.30 am, 24 uniformed young and not so young people in uncle-blue jackets load the bus to Stockholm Airport with their equally blue backpacks. We eat breakfast from paper bags, some sandwiches. And the bus ride is barely long enough to get rid of all fluidlike food (yoghurt) that is not allowed in the carry-on baggage.
On to Norway
23 blue backpacks will be checked in as special luggage. I'm lucky that I can check in as regular luggage, since I packed mine in a gray flight cover for protection. It also makes it easier to identify the backpack as mine at baggage claim, when, again, 23 blue identical backpacks want to be picked up.
The first flight takes us to Oslo. I sit in a row with Rizal from Malaysia and Ferenc from England. Rizal shows us some of his videos, which he has taken as a rafting guide. Beautiful and exciting landscapes. In Oslo we have to change the plane to get to Tromsö. Oslo Airport has a very special security procedure: you can only pass through the barrier to the next terminal with your boarding pass if your own name appears on a digital board in front of it. And that is exactly the case when the luggage was unloaded from the previous aircraft. Strange, the Norwegians.
During the next flight, I sit in a row with: Rizal and Ferenc. So we can deepen our conversation or Ferenc has to record videos of the snow-capped mountains and islands with our cell phones, since at he has got the window seat.
When we arrive in Tromsö, especially our team members from the southern climates are totally freaking out. 5 feet of snow, they have not seen anything like that yet. And it just keeps on snowing. A bus gets us further inland to Camp Tamok, where we spend our first night in a tent. Last year, the road was impassable, but we are lucky and arrive there after a ride through magical winter landscapes in the early afternoon.
Undressing in the snow
We spend half an hour dressing up (re-inforce!) and enjoy tea, coffee and biscuits before gathering our gear for a lesson on how to pitch a tent in snow from Johan. Many of us have put on comfortable clothes for the flight and the bus ride. And now we ask ourselves where we should change into winter gear. Exactly here. Between ice and snow without any shelter.
After a little refreshment we find ourselves together on a snowy hill, where one of the orange polar tents is already perfectly pitched. Johan explains briefly and succinctly. Then we try ourselves. The first challenge is to find a suitable spot, because with each step we sink at least one foot deep into the snow. Fortunately, Lena, my tent neighbor, and I are already experienced in pitching various tents. The main challenge is to handle the huge tent stakes, which are about 10 times the size of my ultralight tent ones. In the traditional way there is not enough grip in the powder snow.
Johan explains the trick to us. Pull the tent lines the same length, dig a deep hole in the snow, build a small channel, anchor the stake in the hole, shovel the hole. Twenty times. This takes another 30 minutes. After that the tent interior has to be dug out to get a lower "entrance room". Very clever, because that way you can sit on the "bedroom" and put on your shoes.
I can handle a stove! Can I?
Before dinner, the next lesson is: how do I get my stove to started. The multi-fuel stove from Primus is something else compared to the gas stoves I usually take on a hike. First fill up the fuel bottle with petrol, then pump 20 times, then turn screw 1 and 2 until a few drops of fuel come out. Then turn screw 2 again, make some sparks with the knife (which is hard enough for some of us), ignite the fuel, burn down and then turn screw 2 back on at the right time. Well. So far so good.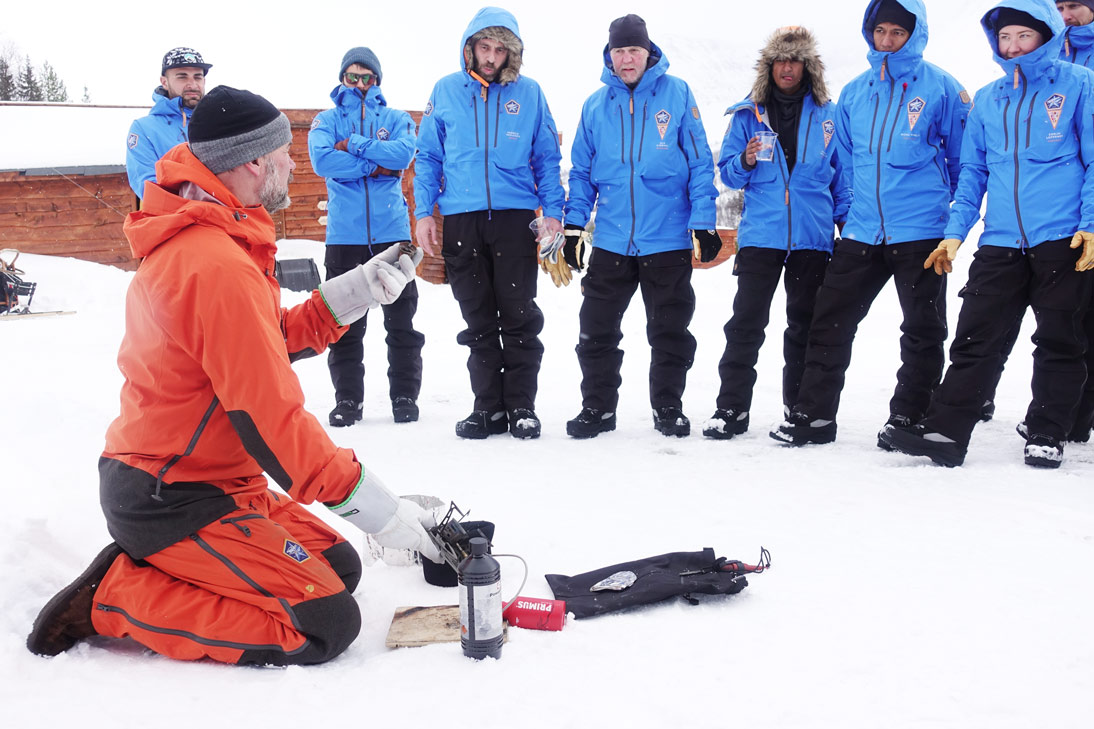 Somehow it works, but we really don't know what we are doing. And looking at other teams it seems more like an inferno. At 6 pm, the arrival of the mushers releases us from our fate. Today every team gets to know the musher for the next days. The person who will keep us going for the next few days and will show us the fascination of the Swedish and Norwegian arctic. Nora, a super nice Scandinavian who has already accompanied Polar for a few years, will lead our team. She shows us the sled, tells us that each of us will have six sled dogs and most important: "Never let go of the sled! No matter what happens."
Internalization
It is with great joy when to dinner finally starts at half past seven. We are all hungry and cold outside when you just stand still and listen. As a starter we get some reindeer stew … and lots of bones in it. After Nora takes another helping of the stew, we learn: this is not the starter, but the main course. Immediately, we fill our bowls again and grab a lot of bread. Suddenly, the stew tastes much better when you know, you will not get anything else. There are cakes with cinnamon for dessert, which are very tasty and I could have ate some more.
After dinner we are told by Johan to once again internalize the handling of the stove and practice. Lena and I decide that it is sufficient to just tell the whole procedure loudly. This comes close to the practice and has a decisive advantage: you can do it in a warm sleeping bag. The mattress seems to me quite primitive as I am used to inflatable ones and I will suspect it as the reason that I am a little cool at night. At 10:30 pm it's finally dark outside. At least for the next four hours.