[:en]One last hot shower, one last look in the mirror, one last time using an outlet before it leaving into the icy wilderness for five days. At 5.30 am, 24 uniformed young and not so young people in uncle-blue jackets load the bus to Stockholm Airport with their equally blue backpacks. We eat breakfast from paper bags, some sandwiches. And the bus ride is barely long enough to get rid of all fluidlike food (yoghurt) that is not allowed in the carry-on baggage.
On to Norway
23 blue backpacks will be checked in as special luggage. I'm lucky that I can check in as regular luggage, since I packed mine in a gray flight cover for protection. It also makes it easier to identify the backpack as mine at baggage claim, when, again, 23 blue identical backpacks want to be picked up.
The first flight takes us to Oslo. I sit in a row with Rizal from Malaysia and Ferenc from England. Rizal shows us some of his videos, which he has taken as a rafting guide. Beautiful and exciting landscapes. In Oslo we have to change the plane to get to Tromsö. Oslo Airport has a very special security procedure: you can only pass through the barrier to the next terminal with your boarding pass if your own name appears on a digital board in front of it. And that is exactly the case when the luggage was unloaded from the previous aircraft. Strange, the Norwegians.
During the next flight, I sit in a row with: Rizal and Ferenc. So we can deepen our conversation or Ferenc has to record videos of the snow-capped mountains and islands with our cell phones, since at he has got the window seat.
When we arrive in Tromsö, especially our team members from the southern climates are totally freaking out. 5 feet of snow, they have not seen anything like that yet. And it just keeps on snowing. A bus gets us further inland to Camp Tamok, where we spend our first night in a tent. Last year, the road was impassable, but we are lucky and arrive there after a ride through magical winter landscapes in the early afternoon.
Undressing in the snow
We spend half an hour dressing up (re-inforce!) and enjoy tea, coffee and biscuits before gathering our gear for a lesson on how to pitch a tent in snow from Johan. Many of us have put on comfortable clothes for the flight and the bus ride. And now we ask ourselves where we should change into winter gear. Exactly here. Between ice and snow without any shelter.
After a little refreshment we find ourselves together on a snowy hill, where one of the orange polar tents is already perfectly pitched. Johan explains briefly and succinctly. Then we try ourselves. The first challenge is to find a suitable spot, because with each step we sink at least one foot deep into the snow. Fortunately, Lena, my tent neighbor, and I are already experienced in pitching various tents. The main challenge is to handle the huge tent stakes, which are about 10 times the size of my ultralight tent ones. In the traditional way there is not enough grip in the powder snow.
Johan explains the trick to us. Pull the tent lines the same length, dig a deep hole in the snow, build a small channel, anchor the stake in the hole, shovel the hole. Twenty times. This takes another 30 minutes. After that the tent interior has to be dug out to get a lower "entrance room". Very clever, because that way you can sit on the "bedroom" and put on your shoes.
I can handle a stove! Can I?
Before dinner, the next lesson is: how do I get my stove to started. The multi-fuel stove from Primus is something else compared to the gas stoves I usually take on a hike. First fill up the fuel bottle with petrol, then pump 20 times, then turn screw 1 and 2 until a few drops of fuel come out. Then turn screw 2 again, make some sparks with the knife (which is hard enough for some of us), ignite the fuel, burn down and then turn screw 2 back on at the right time. Well. So far so good.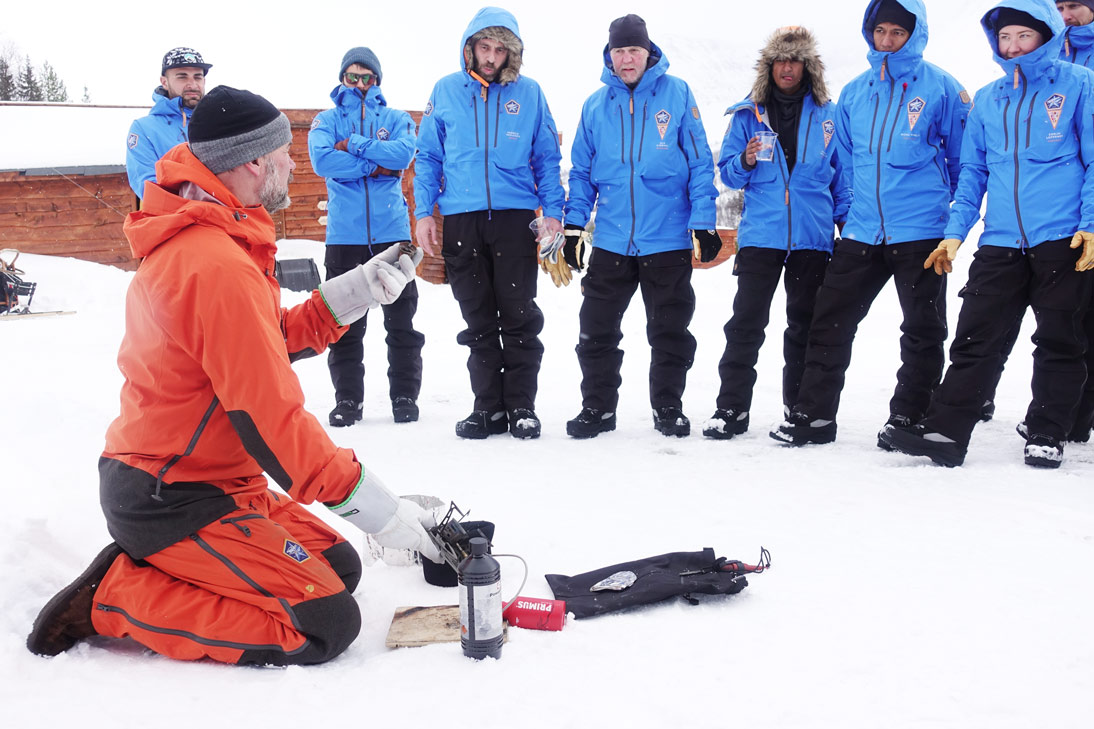 Somehow it works, but we really don't know what we are doing. And looking at other teams it seems more like an inferno. At 6 pm, the arrival of the mushers releases us from our fate. Today every team gets to know the musher for the next days. The person who will keep us going for the next few days and will show us the fascination of the Swedish and Norwegian arctic. Nora, a super nice Scandinavian who has already accompanied Polar for a few years, will lead our team. She shows us the sled, tells us that each of us will have six sled dogs and most important: "Never let go of the sled! No matter what happens."
Internalization
It is with great joy when to dinner finally starts at half past seven. We are all hungry and cold outside when you just stand still and listen. As a starter we get some reindeer stew … and lots of bones in it. After Nora takes another helping of the stew, we learn: this is not the starter, but the main course. Immediately, we fill our bowls again and grab a lot of bread. Suddenly, the stew tastes much better when you know, you will not get anything else. There are cakes with cinnamon for dessert, which are very tasty and I could have ate some more.
After dinner we are told by Johan to once again internalize the handling of the stove and practice. Lena and I decide that it is sufficient to just tell the whole procedure loudly. This comes close to the practice and has a decisive advantage: you can do it in a warm sleeping bag. The mattress seems to me quite primitive as I am used to inflatable ones and I will suspect it as the reason that I am a little cool at night. At 10:30 pm it's finally dark outside. At least for the next four hours.
[:de]Eine letzte heiße Dusche, ein letzter Blick in den Spiegel, ein letztes Mal Strom nutzen, bevor es für fünf Tage in die eisige Wildnis geht. Um 5 Uhr 30 stehen 24 mit mittelblauen Jacken uniformierte junge und nicht mehr ganz so junge Menschen in Sigtuna und beladen den Reisebus zum Stockholmer Flughafen mit ihren ebenso blauen Rucksäcken. Frühstück gibt es im Bus aus Papiertüten, vorher ist dafür keine Zeit. Und auch die Busfahrt reicht kaum, um den Inhalt in Gänze zu vertilgen, also konzentriere ich mich auf die tatsächlichen und mutmaßlichen Flüssigkeiten (Joghurt), die nicht mit ins Handgepäck dürfen.
Auf nach Norwegen
23 blaue Rucksäcke werden per Spezialgepäck eingecheckt. Ich hab Glück und darf das umgehen, denn ich habe meinen zum Schutz in ein graues Flight Cover gepackt und er darf per normalem Gepäck per Self-Bag-Drop aufgegeben werden. Das macht es auch umso einfacher, ihn später wieder als meinen zu identifizieren.
Der erste Flug geht nach Oslo. Ich sitze in einer Dreierreihe mit Rizal aus Malaysia und Ferenc aus England. Rizal zeigt uns einige seiner Videos, die er als Rafting-Guide aufgenommen hat. Wunderschöne und aufregende Landschaften. In Oslo heißt es, umsteigen in den Flieger nach Tromsö. Der Osloer Flughafen hat eine ganz spezielle Sicherheitsprozedur: man darf mit seiner Bordkarte erst dann die Schranke zum nächsten Terminal durchschreiten, wenn der eigene Name auf einer Anzeigetafel davor erscheint. Und das ist genau dann der Fall, wenn das Gepäck aus dem vorherigen Flugzeug ausgeladen wurde. Seltsam, die Norweger.
Im nächsten Flieger sitze ich in einer Dreierreihe. Neben mir: Rizal und Ferenc. Wir können unsere Gespräche also vertiefen bzw. wird Ferenc am Fensterplatz genötigt, Videos der schneebedeckten Berge und Inseln mit unseren Handies aufzunehmen.
Als wir in Tromsö ankommen, flippen vor allem unsere Teammitglieder aus den südlichen Gefilden vollkommen aus. Meterhoher Schnee, sowas haben sie noch nicht gesehen. Und es schneit auch gerade noch munter weiter. Nachdem wir das Chaos blauer Rucksäcke aufgelöst haben, geht es wieder zu einem Reisebus. Der soll uns weiter ins Landesinnere zum Camp Tamok fahren, wo wir unsere erste Nacht im Zelt verbringen werden. Im letzten Jahr war der Weg dorthin unpassierbar gewesen, aber wir haben Glück und kommen nach einer Fahrt durch zauberhafte Winterlandschaften am frühen Nachmittag dort an.
Ausziehen im Schnee
Uns bleibt eine halbe Stunde, um uns den Wetterbedingungen gemäß zu kleiden (re-inforce!), bei Tee, Kaffee und Keksen aufzuwärmen und dann unsere weitere Ausrüstung zusammen zu sammeln, bevor es zur Zeltaufbaueinweisung mit Johan geht. Viele von uns haben sich für Flug und Bus bequeme Klamotten angezogen. Und nun stellen wir uns die Frage, wo wir uns in Eis und Schnee umziehen sollen. Genau dort. Zwischen Eis und Schnee. Nun haben die gut lachen, die vorher schon ihre dicken Hosen angezogen und im Flieger geschwitzt haben.
Nach einer kleinen Stärkung finden wir uns auf einem Schneehügel zusammen, auf dem bereits eins der orangen Polar-Zelte steht. Professionell aufgebaut, was anderes war auch nicht zu erwarten. Wie man das macht, erklärt uns Johan kurz und knapp. Dann dürfen wir selbst loslegen. Die erste Herausforderung ist schon das Finden eines geeigneten Platzes, denn mit jedem Schritt sinken wir einen halben Meter tief in den Schnee ein. Zum Glück sind Lena, meine Zeltnachbarin, und ich schon geübt, was das Aufbauen ähnlicher Zelte angeht und so geht der Aufbau recht flott. Ein Problem bereiten die Heringe, die etwa 10 x so groß sind wie die meines Ultraleichtzeltes. Die halten auf herkömmliche Weise so gar nicht im Pulverschnee.
Johan erklärt uns den Trick. Die Zeltleinen auf die gleiche Länge ziehen, ein tiefes Loch in den Schnee graben, einen kleinen Kanal bauen, den Hering quer im Loch versenken, Loch zuschaufeln. Und das zwanzig Mal. So vergeht schon mal noch eine weitere halbe Stunde. Dann wird der Zeltinnenraum ausgeschippt. An sich total clever, denn so kann man auf dem "Schlafraum" sitzen und sich die Schuhe anziehen.
Kocher kann ich. Oder?
Noch vor dem Abendessen steht die Lektion an: wie bekomme ich meinen Kocher zum Kochen. Der Multi-Brennstoffkocher von Primus ist schon ein ganz anderes Kaliber als die Gaskocher, mit denen ich sonst so wandern gehe. Nix mit aufdrehen und anzünden. Erstmal die Brennstoffflasche füllen, dann 20 x pumpen, dann an Schraube 1 und 2 drehen, bis ein paar Spritzer Brennstoff rauskommen. Dann Schraube 2 wieder zudrehen, mit dem Messer Funken machen (was an sich für einige schon schwer genug ist), Brennstoff anzünden, runterbrennen lassen und dann zum richtigen Zeitpunkt Schraube 2 wieder aufdrehen. Ist klar.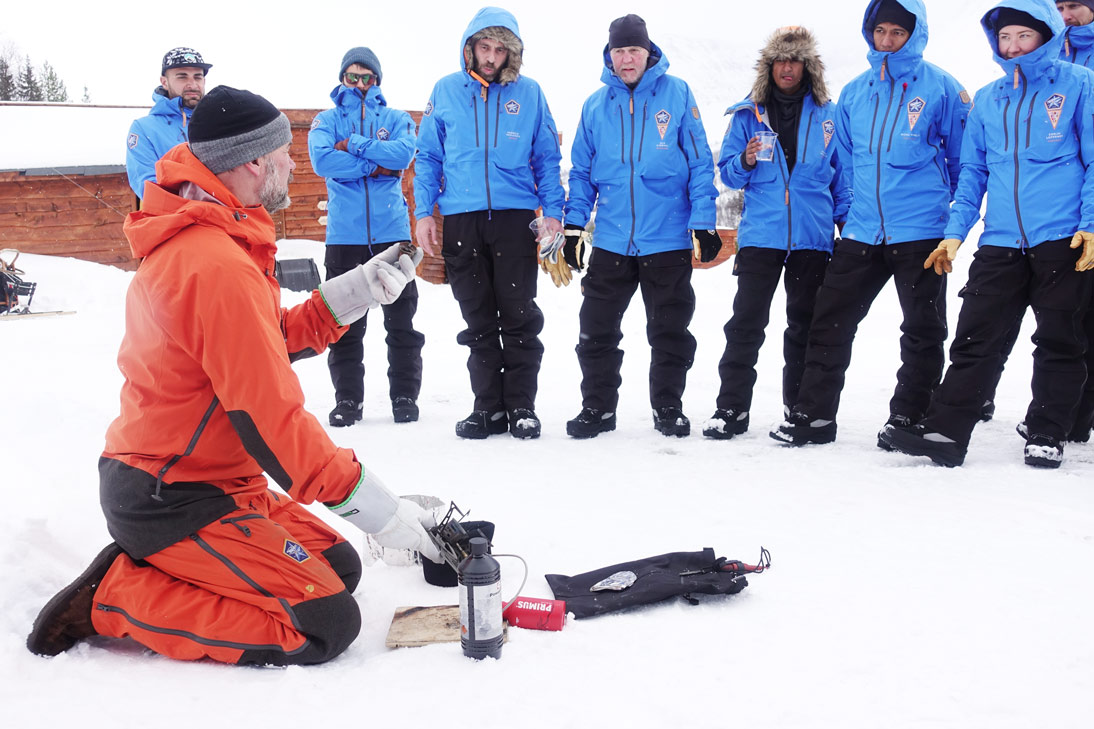 Irgendwie gehts, aber so richtig wissen wir nicht, was wir da tun. Und bei einigen Teams mutet es mehr wie ein Inferno an. Um 18 Uhr erlöst uns die Ankunft der Musher von unserem Schicksal. Heute lernt jedes Team seinen Musher für die nächsten Tage kennen. Die Person, die uns in den nächsten Tagen auf Trab halten wird. Die uns die Faszination der schwedischen und norwegischen Arktis zeigen wird. Die jede unserer Unzulänglichkeiten aushalten muss. Nora, eine supersymphatische Skandinavierin und schon ein paarmal beim Polar dabei, wird unser Team anführen. Sie zeigt uns den Schlitten, erklärt uns, dass jeder von uns morgen sechs Hunde bekommen wird und das Wichtigste: "Niemals den Schlitten loslassen! Egal, was passiert. Der Schlitten wird festgehalten!"
Verinnerlichen
Die Freude ist groß, als es um halb acht endlich zum Dinner geht. Hunger haben wir alle und kalt ist es draußen auch, wenn man nur so rumsteht und zuhört. Als Vorspeise gibt es eine Brühe mit Rentierfleisch… und ganz vielen Knochen. Nachdem Nora sich noch zwei Nachschläge gönnt, wird uns erst klar: das ist nicht die Vorspeise, sondern der Hauptgang. Auf einmal lassen alle noch einmal ihre Schüsseln auffüllen und greifen beherzt beim Brot zu. Plötzlich schmeckt die Suppe viel besser. Zum Nachtisch gibt es Fladen mit Zimt. Die sind gut und ich hätte davon gern noch mehr gehabt.
Nach dem Dinner sollen wir noch einmal den Umgang mit dem Kocher verinnerlichen und üben. Lena und ich beschließen, dass es auch reicht, das ganze Procedere laut zu erzählen. Das kommt der Praxis schon ganz nahe und hat einen entscheidenden Vorteil: man kann es im warmen Schlafsack tun. Die Isomatte kommt mir zwar recht spartanisch vor und ich werde sie als Grund dafür verdächtigen, dass mir in der Nacht ein wenig frisch ist, aber um 22:30 Uhr fallen die Augen zu. Es ist ja auch endlich dunkel draußen. Zumindest für vier Stunden.
[:]