[:en]The recent lineup of sport watches like the Garmin Forerunner 920t or the Fenix 3 have lots of options and features for the ambitious athlete to train more effectively and to monitor the results.
You can choose the right information for your special training, matching your demands from a vide variety of data fields. Pace, Distance and elapsed time are just a fraction of the informations a modern sports watch is able to display.
But besides these, I call it "serious", features, there are some which are just for fun and which make you smile.
The Garmin Connect IQ™-Shop offers data fields like "beers earned" by an activity or a wide variety of watch faces for installation on their sports watches.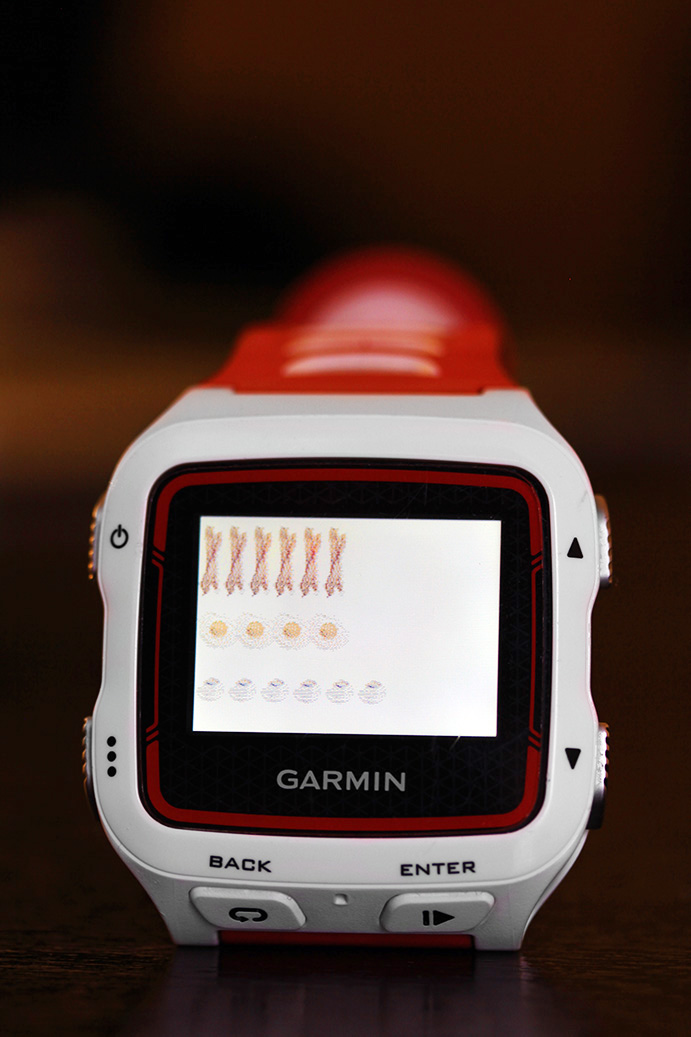 Many additional software pieces were developed by hoppy developers, which where looking for new useful features and who made them are available for all users through the Garmin Connect IQ™-Shop.
Yesterday I discovered a great watch face and I just have to introduce it to you. It is called the "Bacon and Eggs Clock" developed by keizen. And of course, blogging about "earnyourbacon" I need to have this watch face on my watch. It displays the hours by baconstrips, the 10 mins by Eggs (sunny side up 🙂  ) and the minutes by coffee cups.
It is a little hard to read, especially in the morning with my eyes half closed. But honestly, just saying "It is six baconstrips, four eggs and 8 coffecups late" when someone asks you for the time, is worth it, isn't it?
[:de]
Die aktuellen Sportuhren von Garmin wie der Forerunner 920 XT oder die fenix 3 kommen mit allerlei Ausstattungsmerkmalen daher, die dem ambitionierten Sportler ermöglichen sollen, das Training effektiver zu gestalten und zu überwachen. Dazu kann man aus einer vielfältigen Auswahl an Datenfelder genau die auswählen, die für das eigene Training wichtig sind. Aktuelle Pace, verstrichene Zeit, gelaufene Distanz sind nur ein Bruchteil dessen, was sich auf den Smartwatches für den Sportbereich anzeigen lässt.
Neben diesen, ich nenne sie einfach mal seriösen, Anzeigemöglichkeiten hat sich inzwischen aber auch eine kleine Menge an Features entwickelt, die einfach nur dem Spaß dienen und zum Schmunzeln einladen.
Über den Connect IQ™-Shop von Garmin lassen sich neben so netten Datenfeldern wie "Beers Earned" (durch Aktivität verdiente Biere) auch eine Vielzahl unterschiedlicher Watchfaces auf den Uhren installieren. Urheber der im Connect IQ™-Shop angebotenen Software sind freischaffende Entwickler, die teilweise auch für sich selbst sinnvolle Features entwickelt und dann für alle veröffentlicht haben.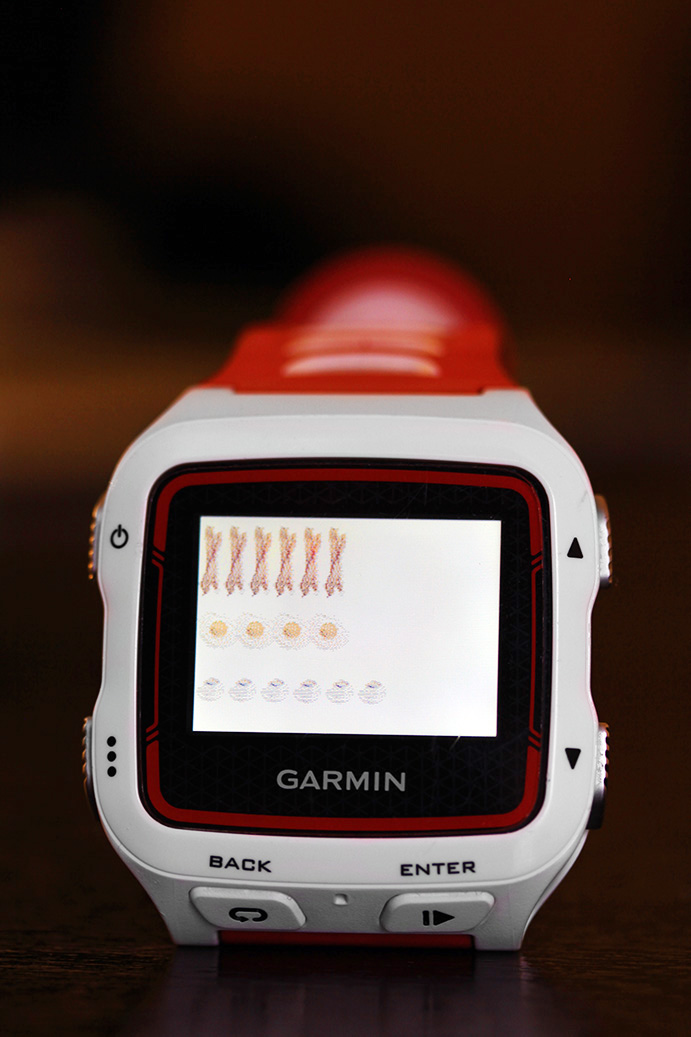 Eines dieser großartigen Watchfaces habe ich gestern für mich entdeckt und muss es einfach der Allgemeinheit vorstellen: die "Bacon and Eggs Clock" vom Entwickler keizen. Natürlich muss ich als Earn Your Bacon-Bloggerin dieses Ziffernblatt auf meiner Uhr haben. Die Stunden werden durch Baconscheiben angezeigt, die Zehnerminuten durch Spiegeleier und die Einerminuten durch die Anzahl an Kaffeetassen.
Gerade in den Morgenstunden fällt es mir zugegeben ein wenig schwer, mal eben schnell die Zeit abzulesen, wenn die Augen noch halb geschlossen sind. Aber mal ehrlich. Auf die Frage, wie spät es denn ist, antworten zu können: "Es ist jetzt sechs Baconscheiben, vier Eier und acht Kaffeetassen spät" ist das doch wert, oder?
[:]