Two weeks on the Arizona Trail passed with a lot of fun, effort and bombastic impressions, but still harmless. That should change all of a sudden.
My first steps as a solo hiker. I had planned to take the shuttle back to the point where I left the Arizona Trail at Sabino Canyon to stay a night in Tucson. It's 12:30 p.m. The rides for 1:00 and 1:30 p.m. are already sold out. A later ride is not an option for me. I'm not waiting for an hour and a half for a shuttle. So I'm grudgingly on the way to cover the 4 miles on the hot, sunny road. Here and there the river has flooded the road and without taking off my shoes, I run through these floods. A mile later, it's time for taking another picture. I long for my mobile. It is not where it should be. I am wondering. Did I pack it somewhere else? No. It should be in my hip belt pocket. Evil premonitions rise in me. If it is not there, where did I lose it? The only logical explanation: it must have fallen out of my pocket when I ran across the road.
Like a mad(wo)man, I run back in the heat, asking everybody who walk in my direction, if they have found a cell phone. No. I run faster, because in the meantime the fully booked 1 p.m. shuttle bus is heading into the canyon and over the narrow bridge … crushing mobile phone. My desparation rises when I arrive at the bridge. No cell phone there to be found. People already take pity on me because I tell everyone that I cannot continue my hike without the phone. I wouldn't have any information on water sources the Arizona Trail itself. I look down the waterfall, where the water pours down from the road. Could the flow have washed the phone down there? I stand on the bridge, crying, looking into the pool, which the river has washed into the rock.
I already picture myself returning to Tucson, buying a new phone. But I still have little hope. So I take off my backpack and climb down the waterfall. I search in the water with both hands, because through the current I cannot see what is underneath the surface. I'm soaking wet, shirt, shorts, shoes and the people from above look what the poor crazy girl is doing there. No cell phone. I run back and forth, closer to the next pool. In about 1 ½ feet depth, there is my phone! I take it out of the water hastily like Gollum takes the ring … and it's still tracking. Dripping wet like a rat, I climb out of the waterfall and get the cell phone out of its case since some water got in. I still hope it has not been damaged. The phone safely stowed in the bag, I'm on my way again. This time, I don't run.
I return to the Santa Catalina Mountains where I left the Arizona Trail. Suddenly I see myself falling down, stumbling over a rock. Ouch. My big toe does not feel good. Frustrated and annoyed by the situation and my own clumsiness, I decide that I will camp in a spot that I originally planned to. I had considered moving on since I started hiking earlier than expected, but all the stuff about the soldout shuttle, my wet mobile phone and now me falling on the trail seems like a bad omen not to go any further.
Search and Rescue
It's just a few miles along the Arizona Trail and I arrive at Hutch's Pool, a natural pool in the middle of the canyon. Since I was already kind of swimming today, I just set up my tent. Right before Hutch's pool I meet a young guy with two girls following him. Since I just had to cross a river and crawl out of the bushes, I just greet briefly. The girls inform me that there are two more ladies camping at Hutch's pool and I would not be alone. In fact, the two older ladies are just coming back from bathing when I set up my tent. We talk briefly and they invite me to come over when I feel like it. Since I still feel a little frustrated, I am not too convinced about having company tonight.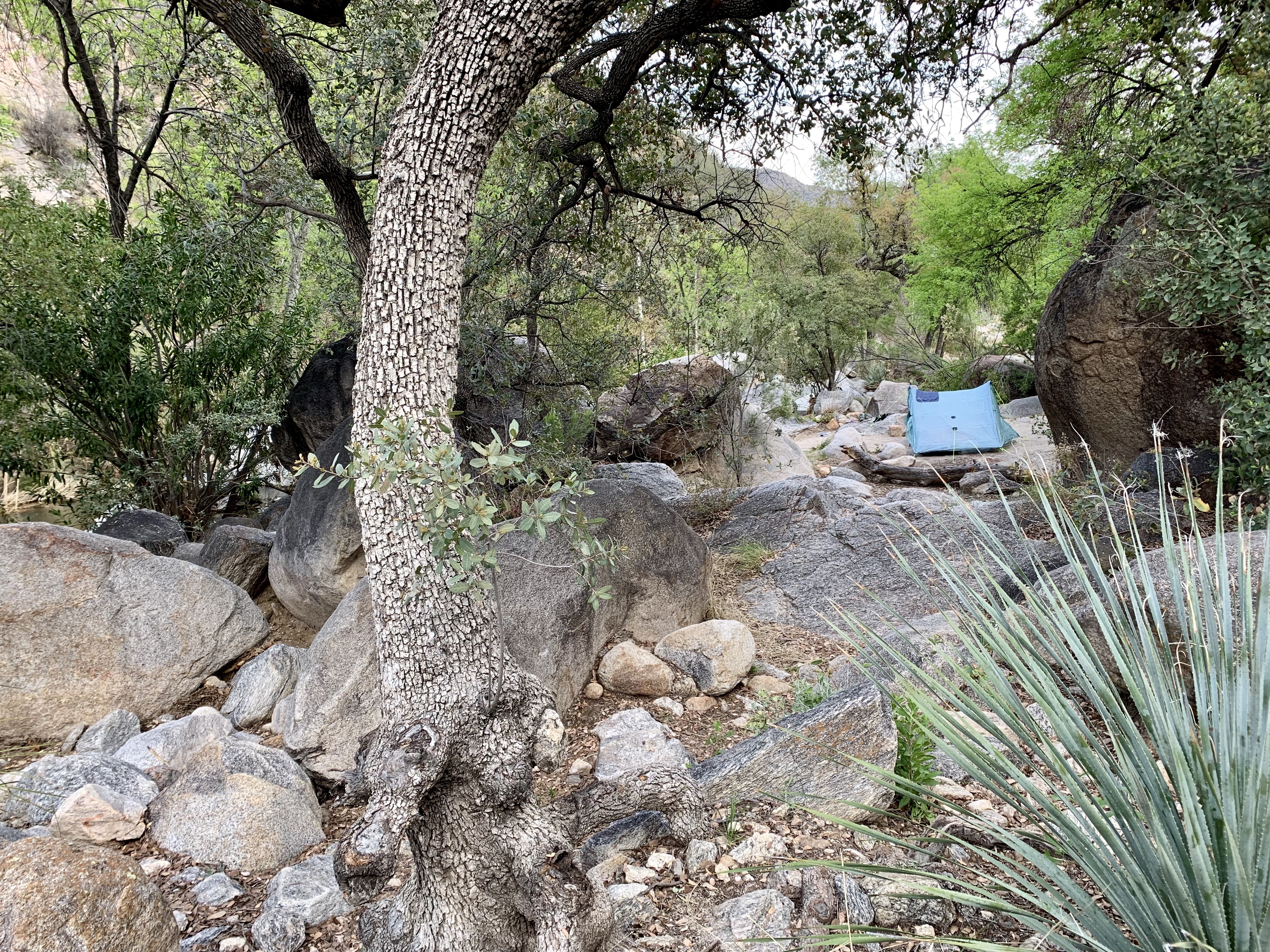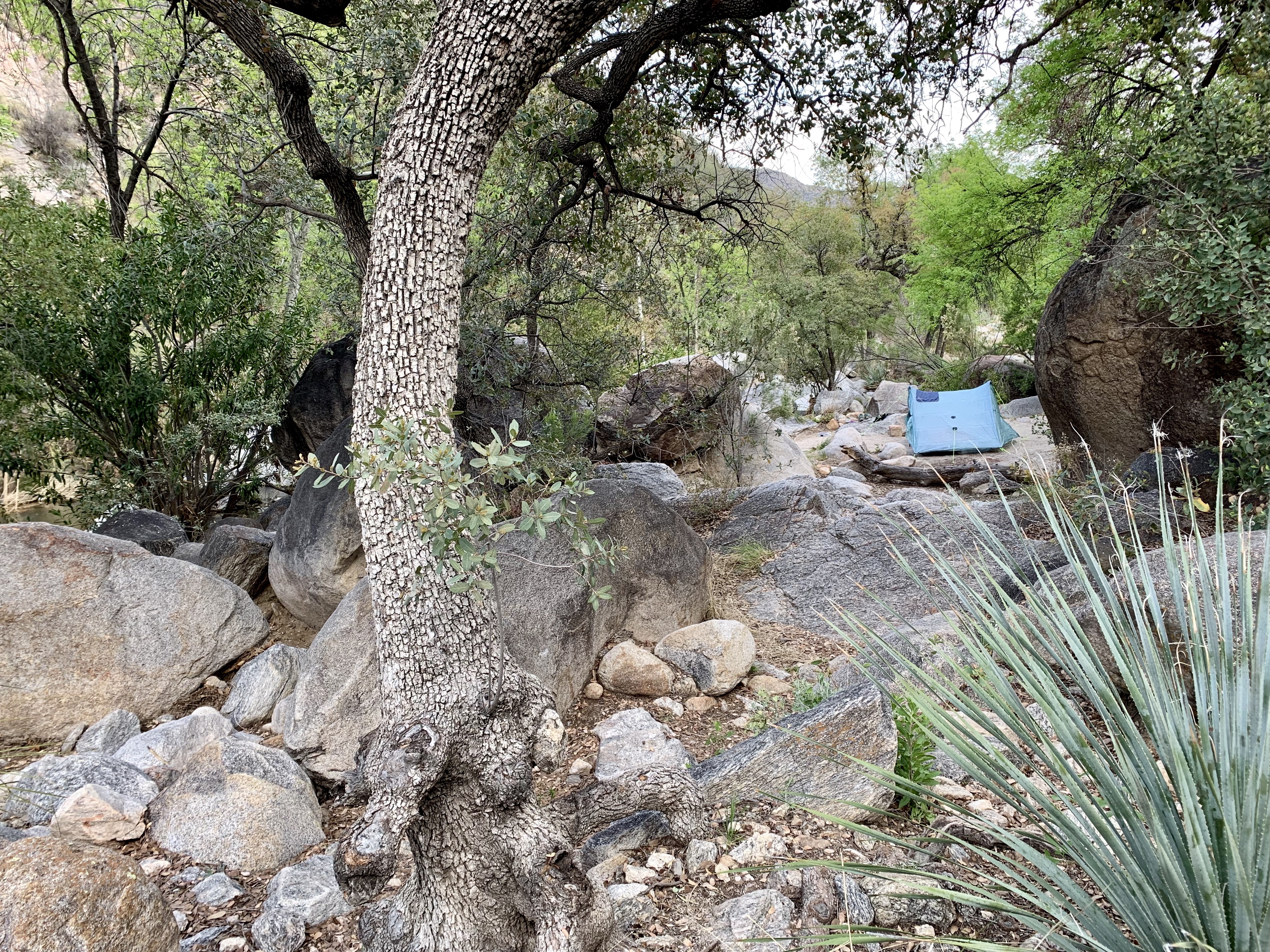 Being grumpy and alone in a tent doesn't change a thing, I think, grab my tuna and walk the short way to the tiny bay. Laura and Beryl took two days off to hike here and spend the night in nature. As we talk about bear cans and the Arizona Trail, the young black man stumbles into camp two hours after I saw him. Desperately, he tells us that he only stopped to pee, then his companions were gone and he could not find his way out of the canyon. He tells us his name: Jonathan. Laura provides him with a paper map of the area with detailed instructions on when to turn where and what to look for. We give him filtered water and ask him if he has enough power left on his cell phone, since it would be dark shortly. If he cannot find the trail out again, we bag him to return to us. He thanks politely and hurries back on the trail again.
Laura and Beryl decide to escort him out of the canyon, but return after 10 minutes as he is already long gone. We meet at my tent, drink tea and talk. It is pitch dark and an hour and a half passed, when I see a light in the distance. Is this a late thruhiker? We go to the main trail and call, because the spur trail to the pool is not easy to find. Stuttering and trembling, Jonathan falls out of the darkness. He could not find the junction to Sabino Canyon again, had stumbled through rivers several times and had killed a rattlesnake on the trail with a stone out of fear. We calm him down first, are glad he came back and promise him that Laura and Beryl would accompany him out of the canyon next morning. He should stay with us for the night. I'll pick up Beryl in my two-man tent so Jonathan has a shelter for himself. We give him food, sleeping bag inlays and sitting pads for insulation, pretty much everything we can spare. At 9 p.m we all disappear into our tents.
00:30 a. m. I wake up to a loud noise over my tent and a bright light. A helicopter flies over. "Oh no, they're looking for him," Beryl says. I cannot quite believe that, since only a few hours have passed. The helicopter comes back again. "We are looking for Jonathan W.", the Heli roars through the night. She is right. "This will go on like that all night long," she says. The helicopter returns, calling out the name again. I wonder what reaction they expect. I climb out of the tent and watch Jonathan sending light signals with his cell phone.
I can contact the Search and Rescue service with my InReach and tell them that he's with us, I think. I talk to Jonathan and push the SOS button on my satellite messenger for the very first time. After just 5 minutes, the emergency service confirms my call and asks what the emergency is about. I inform them that a search & rescue team is looking for a Jonathan W. with a helicopter in the Catalina Mountains and that he is with us. They ask if he is ill or injured. I deny and tell them that he would be accompanied by us in the morning. End of conversation.
Meanwhile Jonathan's tent broke down and he is cold. I decide to get my wood stove and cook some hot tea for him. While the four of us (Laura and Beryl are of course also awake) sit around the little fire in the middle of the night, the helicopter disappears and it starts to get silent again in the canyon. At 1 a.m. we all go back to sleep. Finally.
It's 1:20 a.m. A ray of light hits me in the face. I hear calling. "Jonathan! Jonathan!" No way. I crawl out of my tent again. Beryl turns around. She is tired of the circus. The light and the shouts come from the trail. I shout: "We are here!" Three young men and a woman arrive with heavy luggage. "We are Search and Rescue and are looking for Jonathan." I ask them if they got my message. They affirm and thank me, because that way they were given the exact position where to go. Otherwise they would have split up. I take them to Jonathan, who has a few questions to answer, whether he is thirsty, hungry, etc., and they briefly ask us about the circumstances. After everything is said, they leave him no choice what to do. They give him a jacket and energy drink and take him out of the canyon in the middle of the night at 2 a.m. Poor guy. As if he had not been through enough. My assumption, however, is that if someone assigns a search and rescue service, they have to get the missing person out. No matter what time. Laura and I evaluate the whole thing briefly and say good night again. There is not much left of it.
P. S. None of this is an April Fool's joke …