[:en]
Zero Day
Today is a zero day. I will not hike one mile today except for food and supplies and my feet will be able to heal a bit. For a decent breakfast with WIFI, there is a cute cafe just around the corner. As soon as I enter the "Gathering Grounds", I hear "Hi Carola!" Emilie is sitting there. Emilie, who had left Patagonia yesterday. She tells that she can barely walk. She has a huge blister on her big toe, which hurts terribly and has to be treated before she can hike again. And she talks about her last three days. Immediately, after we parted ways on the second day, she got lost so that she had to be driven back to the trail by the Border Patrol. Then the next day she ran out of water and she had to steal from a private water cache. Then she kicked a stone with her foot, so she could barely walk. She will be driven by somebody to the next bigger place today to treat her toe and then move on. When I see her getting up, I have my doubts about the plan.
I spend the evening in a cute trailer with a little garden and a front porch, which I had booked for two nights. The only hotel in Patagonia has been fully booked for months, but I'm not sad about that because the trailer is just perfect for me. There is a tall tree juts across the street where at least 40 vultures arrive for the night. The host gives me his phone number in the afternoon. For any illegal activities or other problems when I'm alone on the trail.
Arizona and its mountains
After a day without a trail miles, it's 8 o'clock in the morning on the next hard stage is waiting. According to my navigation app there are 2.700 vertical feet to overcome over 16 miles. However, this calculation is based on the original route. Due to mining activities, the road is blocked and the trail was relocated. The bypass leads over small ridges, river beds with some bushwacking at the end and is roughly a mile longer than the original part. Before having break at a small stream we hike together with a family of four who are on a weekend trip. Since a nasty climb is still ahead, we say goodbye to them: "See you at the Bear Spring."
What follows is a climb to the Santa Rita in burning heat. The trail follows a gravel road for a long time with some 15% slope. Such "roads" consist mainly of boulders.
Like a snail I fight my way forward feet by feet. It will be uphill for more than four hours. At some point, the Arizona Trail leaves the gravel road and it follows a small path to the mountain saddle. "Poor Bob," I think, he will struggle with his 62 years. For me, the shaded mountain path is the deserved reward for the road torture. Shortly after 5 pm I finally see the redeeming metal sign for Bear Spring. From a pipe, the spring water trickles into a huge, moss-coated metal tank. There is a small stream right next to it and a spot for a small tent. Perfect!
One and a half hours later, when I gather pinecones for the campfire, the first member of the family finally arrives. Only because there was no alternative, they dragged themselves to this point.
"You are from Germany!"
At 6:22 am I wake up at sunrise, as I do every morning, but I don't hike before 9 am. Unbelievable, how much time you can waste in the morning. Waking up in the cold (40 degrees) I don't want to get out of the sleeping bag. Some necessary hygiene, making fire for coffee and porridge, having breakfast, packing everything, peeling off the sleeping clothes, combing and braiding hair, smearing with sunscreen, all devices on tracking mode, hiking. That takes time. And if I don't want to leave a beautiful place, the process takes even more time.
After about 3 miles, the family of four appears again in front of us. We decide to walk the last 3 miles together and chatter about all sorts of outdoor stuff. On the way we meet a day hiker. Without saying a word, he says to me:
"You are from Germany!"
Yes. For sure. But is it so obvious even without saying a word?
"I follow your journey on Instagram!" Ah, I now see and I am a little embarrassed, too. Suddenly I'm the Instagram star in the group.
As the four Americans say goodbye, they give us a few more warning pieces of advice. The next section should be very dry and it will be unusually hot for the next few days. They give us their phone numbers in case there should be any problems at some point. They often read about dead hikers in the area. We gladly accept the contacts, but I try to convince them that I will be reporting from the Utah border.
After a small break and water filter action, we keep on hiking. Sometimes uphill, then down again, through many grassy areas, with an increasing number of cacti. The Arizona Trail leads to Kentucky Camp, a few buildings from the gold rush that can now be booked as primitive accommodation. Two hikers are sitting here talking German. I ask them if they are from Hamburg and if their water filter is broken. They look at me. Yeah, Facebook. In the group of this year's Arizona Trail hikers another thruhiker had reported about the two. They will spend the night here and continue tomorrow.
Our goal for today is Bowman Spring, a questionable water source off the beaten track, but the only one, according to the app. Passing by some cows, cattle-troughs and the mountains behind us, we continue on through the grasslands over stony paths. After 16 miles my ankles start to hurt very badly. We find a small canyon with a slowly flowing stream and a beautiful camp spot in the grassland just a mile from the planned destination. A mile seems endless, when you are in pain.
8:30 pm and I cannot sleep. An owl sits in the trees somewhere over there and keeps me awake. Every ten seconds I hear "Hehehehehe" and I cannot stop listening to it. Also, my feet hurt even lying on the sleeping pad. Half an hour later, the bird is gone and I am sleeping happily with an ibuprofen to the sound of the small stream.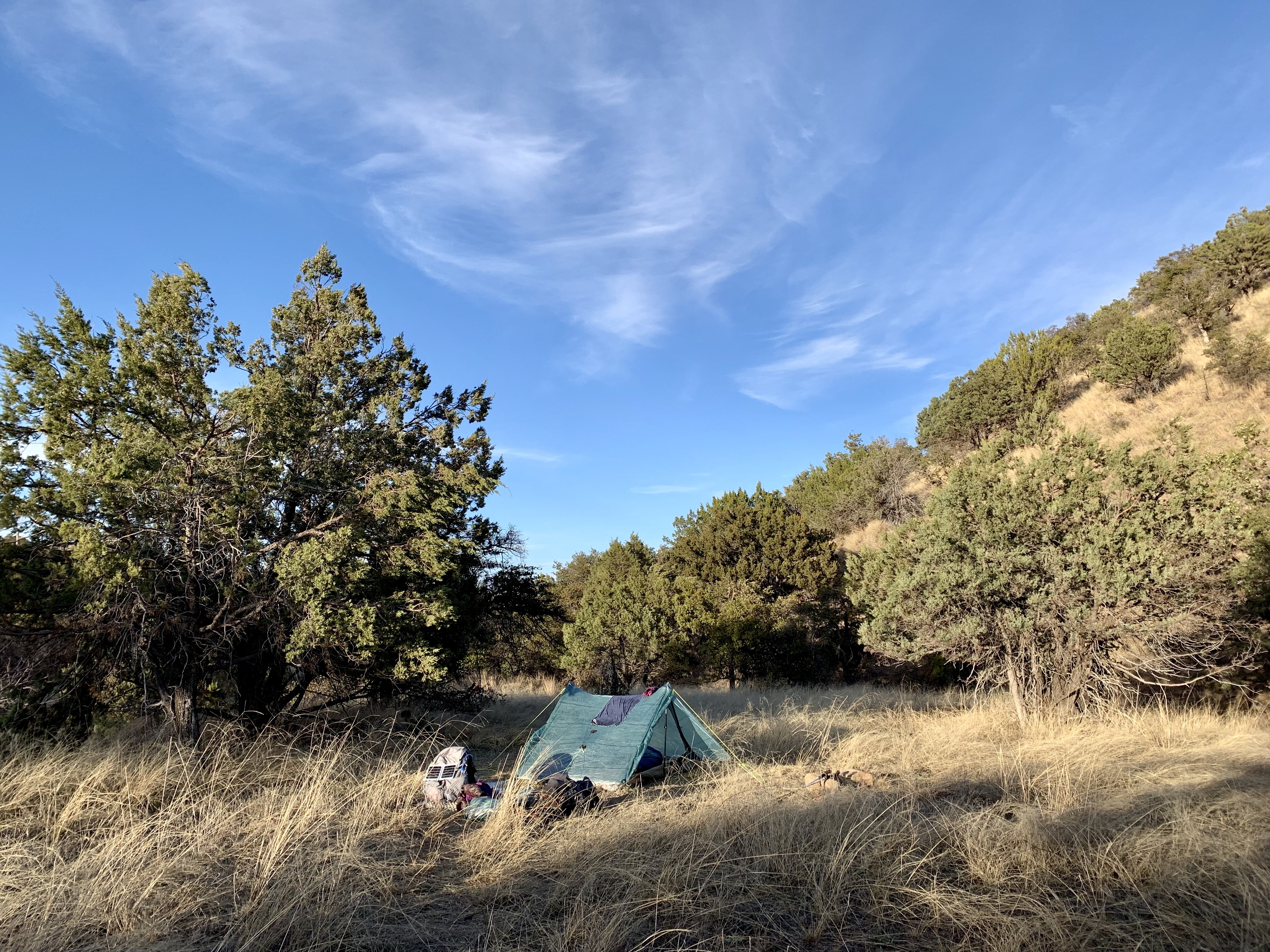 [:de]
Zero Day
Heute ist Entspannungstag. Außer zum Essen und Vorräte auffüllen wird heute nicht gelaufen und meine Füße dürfen ein wenig heilen. Zum Frühstück geht es in ein süßes Café gleich um die Ecke. Kaum am Tisch angekommen höre ich "Hi Carola!" Da sitzt Emilie. Emilie, die gestern Patagonia verlassen hatte. Sie erzählt, dass sie kaum noch laufen kann. Sie hat ein riesige Blase am großen Zeh, die furchtbar schmerzt und erst behandelt werden muss, bevor sie weiterläuft. Und sie erzählt von ihren letzten drei Tagen. Gleich, nachdem sich unsere Wege getrennt hatten, habe sie sich so sehr verlaufen, dass sie von der Border Patrol zum Trail zurückgefahren werden musste. Dann sei ihr am nächsten Tag das Wasser ausgegangen und sie musste bei einem privaten Wassercache klauen. Soviel zur Frage, ob sich nicht jemand anderer bedient. Dann sei sie mit dem Fuß gegen einen Stein getreten, weswegen sie kaum noch gehen könne. Sie würde heute von jemandem in den nächstgrößeren Ort gefahren werden, um den Zeh zu behandeln und dann weiterwandern. Als ich sie aufstehen und gehen sehe, habe ich so meine Zweifel an dem Plan.
Den Abend verbringe ich in dem winzigen, mit einem Kaninchendraht umzogenen Vorgarten vor dem ausgebauten Trailer, den ich für die Nächte gebucht hatte. Das einzige Hotel in Patagonia war schon seit Monaten ausgebucht, aber darüber bin ich nicht traurig, denn der Trailer ist für mich perfekt. Nebenan ragt ein großer Baum über die Straße. In ihm mindestens 40 Geier, die sich dort zur Nacht einfinden. Der Host gibt mir am Nachmittag seine Telefonnummer. Für etwaige illegale Aktivitäten oder andere Probleme, wenn ich alleine bin.
Arizona und seine Berge
Nach einem Tag ohne Trailkilometer geht es um 8 Uhr morgens auf die nächste harte Etappe. Laut Komoot sind 880 Höhenmeter über 25,6 km zu bewältigen. Allerdings basiert diese Berechnung auf der Originalroute. Durch Minenarbeiten ist die Straße, auf der der Arizona Trail sonst entlang führt, gesperrt und der Trail verlegt. Die Umgehung führt über kleine Kämme, Flussbetten, am Ende durch Gestrüpp und ist mal eben 2 km länger als das Originalteilstück, mit etlichen Höhenmetern mehr, versteht sich. Bis zur Pause an einem kleinen Bach laufen wir zusammen mit einer vierköpfigen amerikanischen Familie, die eine Wochenendwanderung unternimmt. Da der mutmaßlich fiese Berganstieg noch bevor steht, verabschieden wir uns von ihnen und verabreden uns: "Wir sehen uns an der Bear Spring," dem von mir geplanten Zielort.
Was folgt, ist ein Anstieg in die Santa Rita Mountains, der sich gewaschen hat. In der brütenden Mittagshitze geht es eine Schotterstraße hinauf, auf der sicher schon lange kein Auto mehr fuhr, mit teilweise 15 % Steigung. Solche "Straßen" bestehen hier hauptsächlich aus Gesteinsbrocken und mehr oder weniger feinem Geröll.
Wie eine Schnecke kämpfe ich mich Meter für Meter voran. Mehr als vier Stunden geht es nur bergauf. Irgendwann verlässt der Arizona Trail die Schotterstraße und es geht einen kleinen Pfad hinauf zum Bergsattel. "Der arme Bob", denke ich mir, wie soll der das nur schaffen mit seinen 62 Jahren und nicht mehr ganz so frisch. Für mich ist der Bergpfad die verdiente Belohnung für die Straßentortur, meinetwegen möge er nie enden. Kurz nach 17 Uhr sehe ich endlich das erlösende Metallschild zur Bear Spring. Aus einem Rohr tröpfelt das Quellwasser in einen riesigen, moosüberzogenen Metallbottich. Der rauschende Bach, der von der Schneeschmelze angetrieben wird, ist um ein vielfaches attraktiver und gleich daneben befindet sich ein Platz für ein kleines Zelt. Perfekt!
Als ich anderthalb Stunden später Tannenzapfen fürs Lagerfeuer oberhalb der Quelle sammele, kommt das erste Mitglied der Familie endlich an. Nur mit Not und weil es keine Alternative gab, haben sie sich bis hierher geschleppt. Und schaffen es gerade noch 400 Meter bis zur nächsten Campmöglichkeit.
"Du bist aus Deutschland!"
Um 6:22 Uhr bin ich pünktlich zum Sonnenaufgang wach, wie jeden Morgen. Los geht es trotzdem wieder erst gegen 9 Uhr. Unglaublich, wieviel Zeit man morgens verplempern kann. Aufwachen, bei der Kälte (5 Grad) nicht aus dem Schlafsack wollen, Morgentoilette, Feuer machen für Kaffee und Porridge, frühstücken, Sachen packen, Zelt abbauen, aus den Schlafsachen schälen, Haar kämmen und flechten, mit Sonnencreme einschmieren, alle Geräte auf Tracking einschalten. Das dauert seine Zeit. Wenn dann noch der Faktor dazu kommt, diesen wunderschönen Ort nicht verlassen zu wollen, streckt sich der Prozess gern noch mehr.
Nach etwa 5 km taucht die vierköpfige Familie wieder vor uns auf. Wir beschließen, die letzten 5 km Ihrer Tagesetappe zusammen zu laufen und schwatzen über allerlei Outdoorkram. Unterwegs treffen wir einen Tageswanderer. Ohne auch nur ein Wort gesagt zu haben, sagt er zu mir:
"You are from Germany!"
Ja. Sicher. Aber ist das so offensichtlich, wenn ich nur einfach rumstehe?
"I follow your journey on Instagram!" Ah, jetzt wird's mir klar und ein wenig peinlich ist mir das auch. Auf einmal bin ich der Instagram-Star in der Gruppe.
Als sich die vier Amerikaner verabschieden, geben sie uns noch ein paar warnende Hinweise. Der nächste Abschnitt sei sehr trocken, kein Wasser und es würde die nächsten Tage ungewöhnlich heiß werden. Sie geben uns ihre Telefonnummern, falls irgendwann irgendwelche Schwierigkeiten auftreten sollten. Man würde schon oft genug von toten Wanderern in dem Gebiet lesen. Wir nehmen die Kontakte gern an, ich verabschiede mich aber mit den Worten, dass ich mich von der Utah-Grenze melde.
Nach einer mittellangen Pause und Wasserfilteraktion geht es weiter. Mal geht es die Hügel hoch, dann wieder runter, durch viel Graslandschaften, aber auch zunehmend mehr Kakteen. Der Arizona Trail führt zum Kentucky Camp, ein paar Gebäuden, die noch aus der Goldschürferzeit stammen und heute als primitive Unterkunft gebucht werden können. Zwei Wanderer sitzen gerade hier, reden Deutsch. Ich frage sie, ob sie aus Hamburg sind und ihr Wasserfilter kaputt ist. Verblüfft schauen sie mich an. Jaja, Facebook. In der Gruppe der diesjährigen Arizona Trail-Wanderer hatte ein anderer Thruhiker über die beiden berichtet. Sie würden die Nacht hier verbringen und morgen weiter gehen.
Unser Ziel für heute ist Bowman Spring, eine fragwürdige Wasserquelle abseits des Trails, aber laut App die einzige. Vorbei an Kühen, Viehtränken und die Berge hinter uns lassend streifen wir weiter durchs Grasland über steinige Pfade. Die machen meinen Knöcheln ab 25 km so zu schaffen, dass die letzten Kilometer keine Freude mehr sind. Umso grandioser ist die die Entdeckung eines kleinen Canyons mit einem leicht fließenden Bächlein mit einem wunderschönen Campspot im Grasland 1,3 km vor dem geplanten Ziel. 1,3 km sind in diesem Zustand Welten!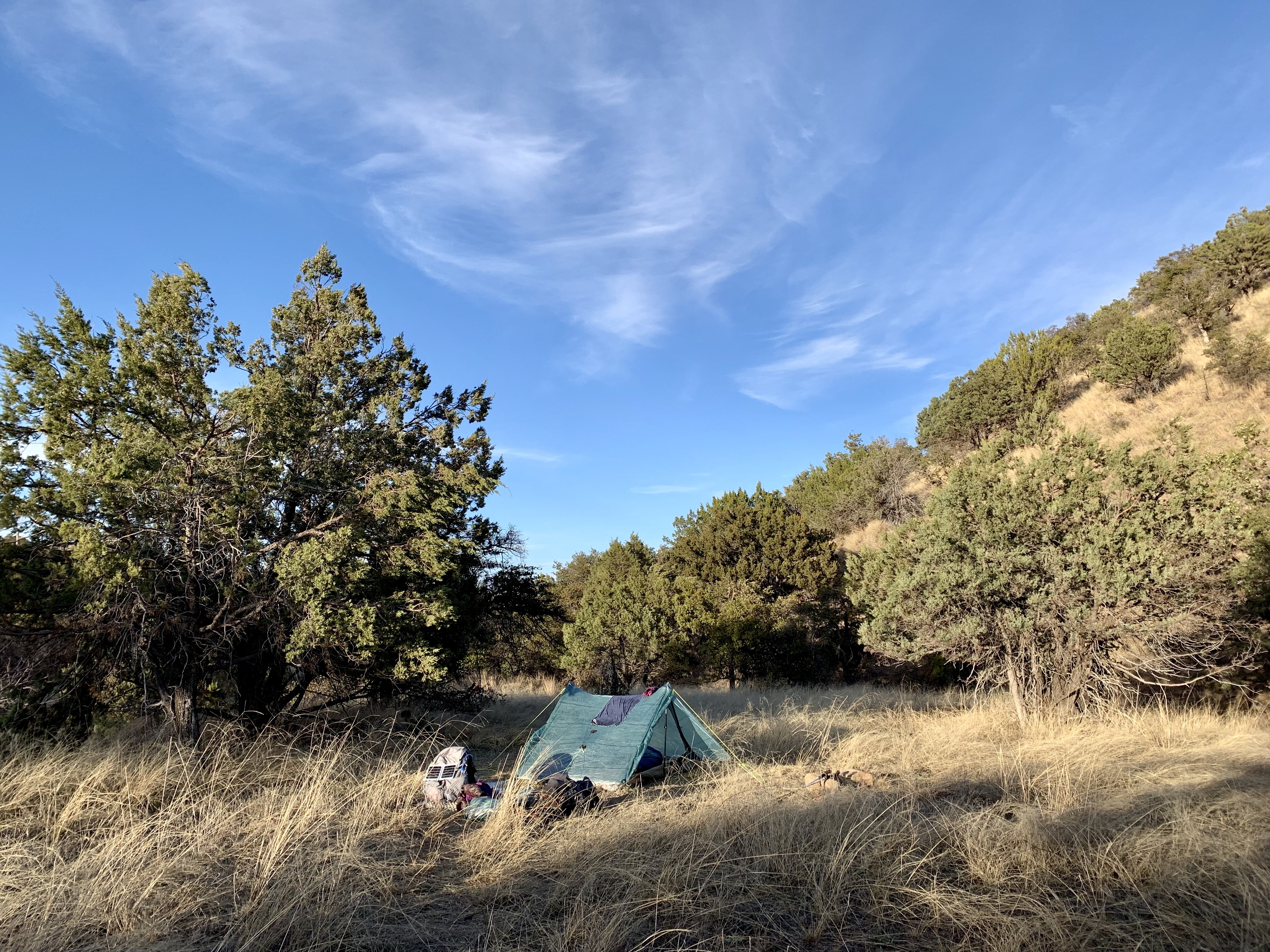 20:30 Uhr und ich kann nicht einschlafen. In einiger Entfernung sitzt ein Nachtvogel im Baum und hält mich wach. Alle zehn Sekunden ertönt ein "Hihihihihi" aus der Richtung und ich kann nicht aufhören, dem zu lauschen. Außerdem schmerzen meine Füße selbst im Liegen noch unglaublich. Eine halbe Stunde später ist der Vogel weg und ich schlafe mit einer Ibuprofen glückselig zum Plätschern des Rinnsals ein.
[:]