4:20 am. The alarm clock is ringing. Luckily I packed all my things last evening. Being that excited today, I would have forgotten half of my stuff anyway. It's time to go to Fjällräven Polar in Stockholm. I still cannot believe that I am one of the 24 chosen people to experience this super-cold adventure.
Traveling with just hand luggage feels strange, especially since one third of my backpack consists of roasted almonds. Some participants of the Fjällräven Polar had already revealed that they bring small gifts for the others and I thought something to snack in the snow cannot be wrong. So I am bringing 4 pounds of almonds that small like cinnamon and christmas.
After a 2 hour flight, the first snow-capped mountains come in sight: The Swiss Alps. It seems like the wrong direction, but the connecting flight starts from Zurich. Two hours later I finally take off for Stockholm. Meanwhile, most participants have already arrived in Sigtuna having lunch. What a pity that I will be one of the last to join our team.
First contact
12:50 pm. Arriving in Stockholm. The rivers and lakes here are still covered with ice. Now I'm really excited. Sofia, who I know from the videos of the previous years, will pick me up.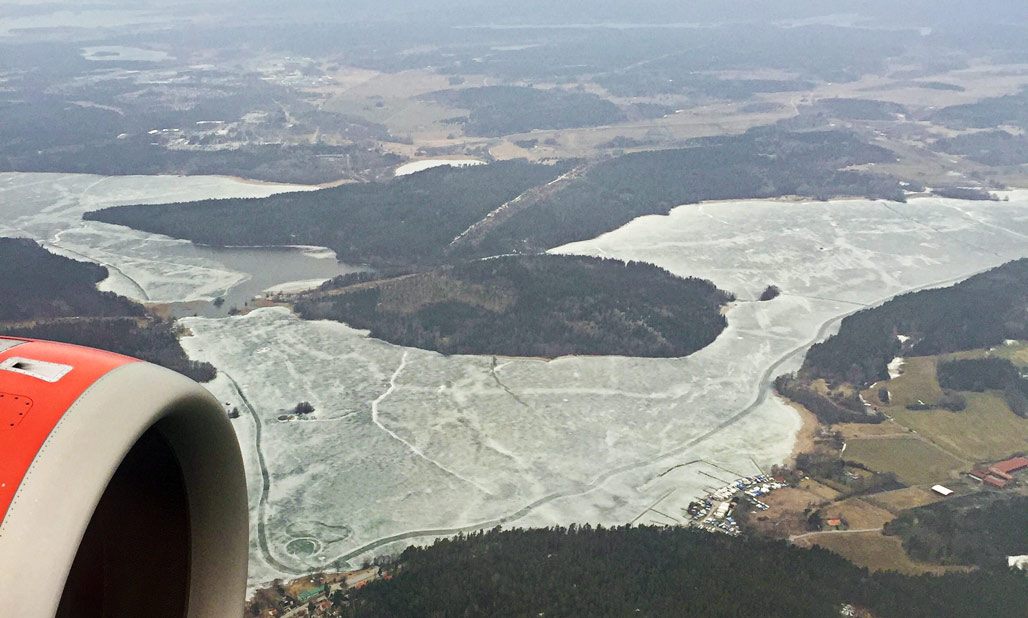 10 minutes later after I left the exit, a guy and a girl, both dressed with blue jackets show up. "All Swedish are that tall", says Sofia. Well, I'll probably have to get used to look up a lot.
Together with Joel, who won the participation with spending the most nights sleeping in a tent between June and February (70 by the way) and Niogk from India we are shuttled to Sigtuna. It takes about 20 minutes, but Carl and Andreas kindly ask us to check in quickly, have lunch and then join the others. I'm still fed up from the plane meal, but refusing the delicious dinner would have been a sacrilege. Although there is salmon and spinach for the third time that day, this is one of the best food I have ever tasted in my life.
First briefing
We are being welcomed with thunderous applause by the other that have been waiting for us. Finally the team of 2018 is complete! Well, almost. Vaggelis from Greece is still missing. Carl, one of the event managers, welcomes us again and hands over to chief instructor Johan Skullman. Johan is a well experienced outdoor expert and longtime companion at Fjällräven Polar. I have a lot of respect for him. Not only because of his excellent outdoor knowledge, but because every image of him shows him as a very serious, almost strict person. Pictures can be deceiving, because Johan is determined, but at the same time warmhearted with a sense of humor. The lessons about the layering your clothes show new aspects for me (the sleeping bag is considered a layer, too).
And yet, like most others, I'm getting more and more nervous. Somewhere in this building there has to be this one room where all our special equipment is waiting for us. The superwarm down polar parka with my name on it. Winter trousers, socks, caps, hardshell jacket etc.
Merry Christmas
At 4 pm it is time for our early christmas. 24 excited polar participants enter the "sacred" room, where 24 polar parka are waiting to be found by their owner. A lot of happy screaming and yelling. This year, the parkas are no longer blue-black, but blue with bright orange. Nice! Like everyone else, I throw my parka on and feel happy. I don't care about sweating since it is 80 degrees inside. Packed to the chin, everyone runs into the rooms and continues to unpack. Thick winter boots, three pairs of gloves, layered merino underwear. Despite the previous size query, not everything fits. Fjällräven must have thought, I have clown feet and giant paws, because shoes, socks and gloves are too big by far. Fortunately, they have set up a small storage up, where things can be exchanged. Except for the socks I get everything a size smaller. I look like a snow king, I am happy about my new winter equipment.
However, there is not much time left today, because this evening everything has to be packed for the early departure tomorrow. And there is also dinner! You are not getting buttery reindeer on popcorn every day.
Totally fed and satisfied, I sink into the bed around 10 pm. Sleeping? I try that for about an hour. The excitement is just too big.