It's 4 am in the morning, when I hear something rustle next to me. At first I think it's a wild animal. Still drowsily I see a beam of light in Klaus' tent flitting back and forth. What is he doing there? I hope it's just a nocturnal pee, turn around to continue sleeping. No chance. Klaus rummages and digs, rustles and filters water. The night is already over an hour and a half before the planned departure. WTF? Meanwhile, Larryboy has also woken up to the noise and eats crumbly potato chips for breakfast.
At 5:30 am we leave beehive tank and I whisper to Larryboy, "We'll never sleep near Klaus again!" He nods in agreement and knows exactly what I'm referring to.
Uphill again, as always on the Arizona Trail. For the first time, I am on the trail before sunrise and I enjoy it. It will be unbearably hot soon enough. Since there are not many water sources on this section, I'm even happier that we pass a well-filled water cache. Here I had cached my first gallons. And not just that. The trailangel "Sequoia" had hidden me good sip of whiskey in a plastic bottle, which I now pick up and share with Larryboy. Alcohol is a rare and therefore valuable drink on a thruhike.
During the next miles, Klaus and Larryboy begin to argue. Their views on "Leave no trace" are very different. This escalates so much that Klaus breaks off the next break early and is gone. We will not see him again. Instead, we spend an unduly long time in two sun loungers that where hidden behind a large rock for the hikers. Unfortunately, the food box is almost looted, there are only nut bars to be found. No matter. Sun loungers in the middle of the desert are much better anyway.
Shortly before sunset, we find an empty water gallon at a gate and at the same time we think: "This has certainly been emptied by Klaus." We pack it out, because that's just the right way. We get our water for the night from a small spring, which fills into a bathtub again. It takes a whole 8 minutes with the low flow to catch a liter of water in our bottles. So we spend almost half an hour there. On the sandy bottom of a gigantic riverbed we find a nice place for our camp. I cook a serving of creamy garlic shells. Obviously, the native fly population has the same exquisite taste like me, because one after another ends up in my noodles. I'm hungry and have no nerves for sorting each tiny fly off my noodles, so I just eat them. After the record distance of 27 miles today, I've earned a few more proteins anyway.
Tonight I follow Larryboys example and try cowboy camping. Of course it's the first night it starts to rain. Grumpy and sleepy at half past one in the night, we set up our shelters.
Nero Day

10 miles! What are 10 miles? Correct: a Nero Day, so a day on which you do almost no trail miles. The short distance also turns out to be one of the most scenic, that I have seen so far. I spontaneously fall in love with the Tortilla Mountains.
Today, the hiker-friendliest town of the states is our goal: Kearny. I've been here roughly three weeks ago, testing the quality of the local pizza and running away from a "bear". The pizza place offers to deliver pizzas directly to a bridge on the AZT. But since we want to spend a night at the motel anyway, we renounce the service and I hitchhike for the first time in my life.
While we greedily devour our pizza, Ranger comes by. He joins us and is very positive of the idea of a night in a motel. So, the three of us walk the few yards from the pizza place to the General Kearny Inn and check in. Since the room has only two beds, Larryboy sacrifices himself and spreads his sleeping clothes on the floor. We spend the day washing clothes, lounging, cooking, lounging, sleeping and lounging. And because the thermometer is supposed to climb well over 90 degrees for the next few days, this is a nice excuse to stay here for another day.
heat

On the morning of April 8, trail angel Carol takes us back to the trail at the Gila River bridge. We were able to sit out one of the ultra-hot days, but as the weather in Southern Arizona tends to get even warmer, we've decided to outrun towards north. But for now, it means sweating a lot.
The views on the passage along the Gila River cannot be more perfect. The trail follows the mountainside through cactus forests and suddenly reveals the view of an old railway bridge in the valley. It feels like hiking through the wild west. Slowly, the Arizona Trail drops to river level, reaching its lowest point on the trail and also the hottest. There is no shade and no water. Today I am deeply grateful for my silver trekking umbrella, which I just carry in my backpack most of my time.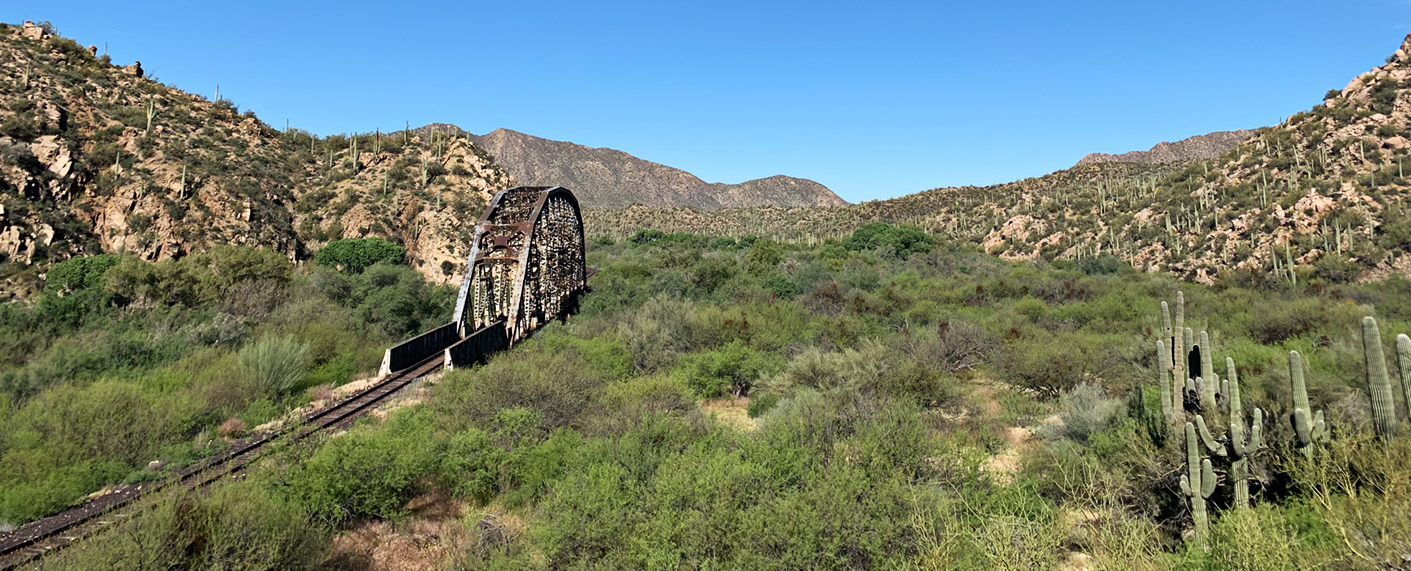 Ranger falls behind a lot behind me, while I watch Larryboy disappear around several corners in front of me. Shortly before we reach the only access to the Gila River, we creep together in a small, cool cave and wait for Ranger. The three of us want to take a long siesta by the river, swim, eat, filter water. The Gila River is the only water source on the long haul and a bad one, too. Due to the abundance of sediment, the river has the color of milk coffee and clogs the physical water filter after about a liter, so they must be backflushed constantly. Anyway, it's water and in these conditions we cannot be picky.
We spend about two hours at the small sandy beach, do not really want to go any further. By 4 pm the temperature is getting a bit more bearable, so we want to go a few more miles. We say goodbye to the Gila River and climb the nameless mountains. A big rock accompanies us in the west. It also has no official name, but the Arizona Trail hikers call him "Dale's Butte" after the creator of the trail. What could be better than falling asleep with a view of this rock? Ranger and I decide to set up camp in the tall grass. Larryboy wants to hike until just before sunset and so we part our way at this point. For now.