[:en]Entry bans, quarantine rules, flight cancellations – vacation planning for 2020 required increased creativity and flexibility. The TGO Challenge in Scotland in May and across the big pond to Amiland in the fall were actually planned. Although I've been there so many times, Yellowstone National Park is still waiting to be discovered by me. Four days paddling on rivers and lakes, two backpacking trips and some day hikes were planned, flights booked and permits secured.
After my big plans for Scotland and the USA burst like a soap bubble thanks to Corona, I thought about what else I could do with my annual vacation under the given circumstances. It should be uncomplicated and spontaneous, but still adventurous. And it should not put too much strain on my knee. The last operation was only three months ago and the next one was imminent – the cruciate ligament was still defective. At the end of August, over a glass of wine, the thought arose from a pleasant evening: Why not just saddle up the brand new mountain bike, take the ferry to Sweden and let yourself drift? After all, my orthopedist always says: "Ride a bike."
Without further ado, I sat down at the computer and thought about how many kilometers one could easily manage over hill and dale in two weeks. Kalmar looked like a good turning point and so I just left the rough planning to komoot in mountain bike mode. A little bit here and there the route was straightened up and the round trip of about 800 kilometers was finished after one hour.
In the middle of September I started with the ferry from Rostock to Trelleborg. From there it went off to the north, deep into the nature reserves and forests. The mountain bike route, which komoot had put together for me, often led over wonderfully quiet hinterland roads and gravel roads, but especially on the first days also over rocky paths and winding trails like the Skåneleden. Not quite up to the high trail art yet, this meant for me that I had to push and lift the bike in parts. Including over ladders of cattle fences. And so I was very happy that I had not planned more than 50 kilometers a day for the beginning.
The further north I came, the more wooded and lakey the landscape became. One beautiful campground after the next. Despite the possibility of wild camping, I spent almost half of all nights in so-called Vindskydds – simple wooden sheds, which are open on one side and always have a fireplace. Pure campfire romance! I found most of them relatively spontaneously via a Google-Map and komoot and adjusted the route a little bit from day to day. Just the kind of spontaneity I had hoped for. Finding stores to fill up supplies on the way was just as uncomplicated – securing the beer in the evening.
After a city stroll in Kalmar at half time, I drove back south along the coast to soak up the salty sea air. Small fishing harbours, pretty villages, narrow trails and always the surprise where the route would lead to next.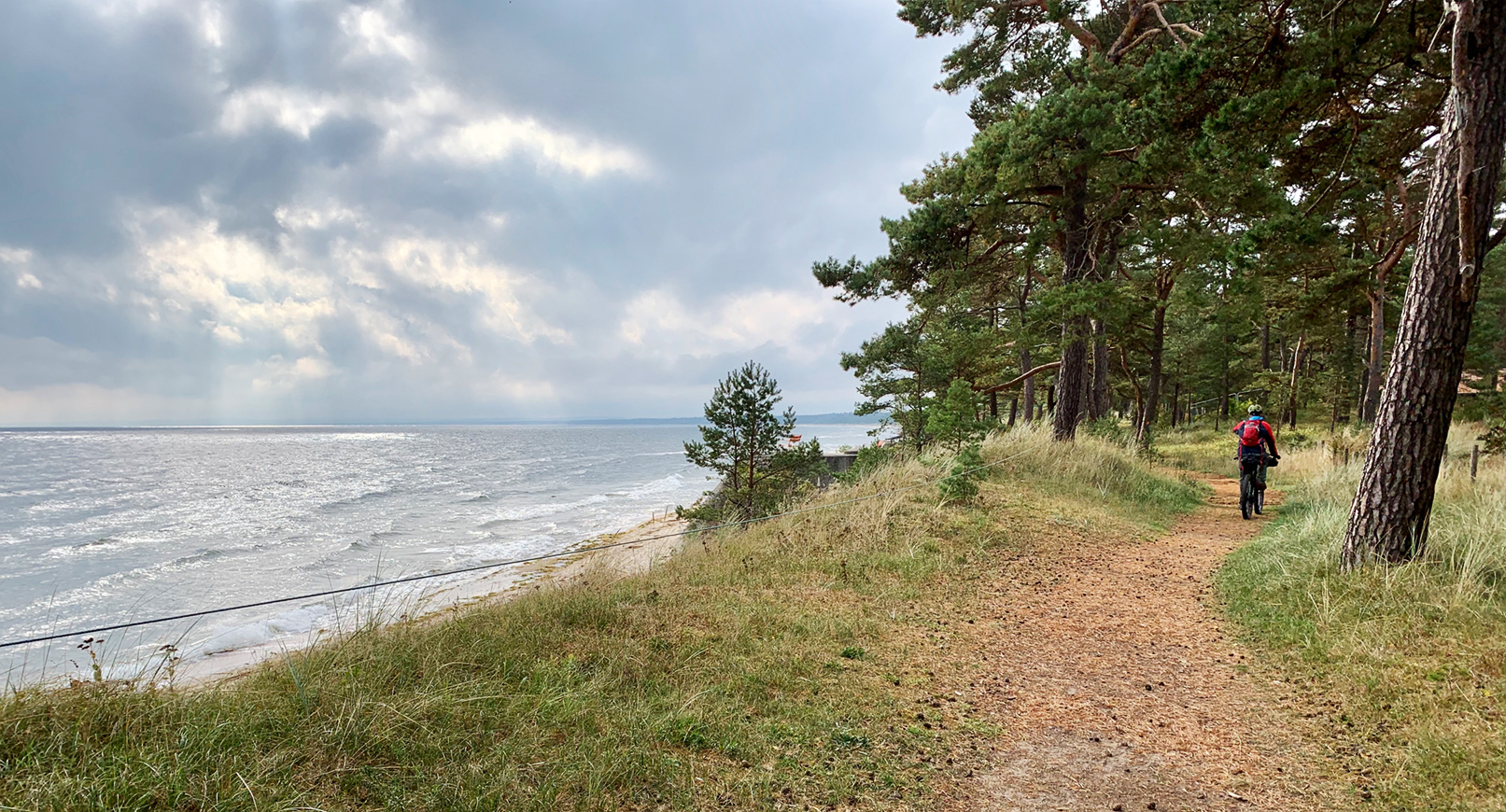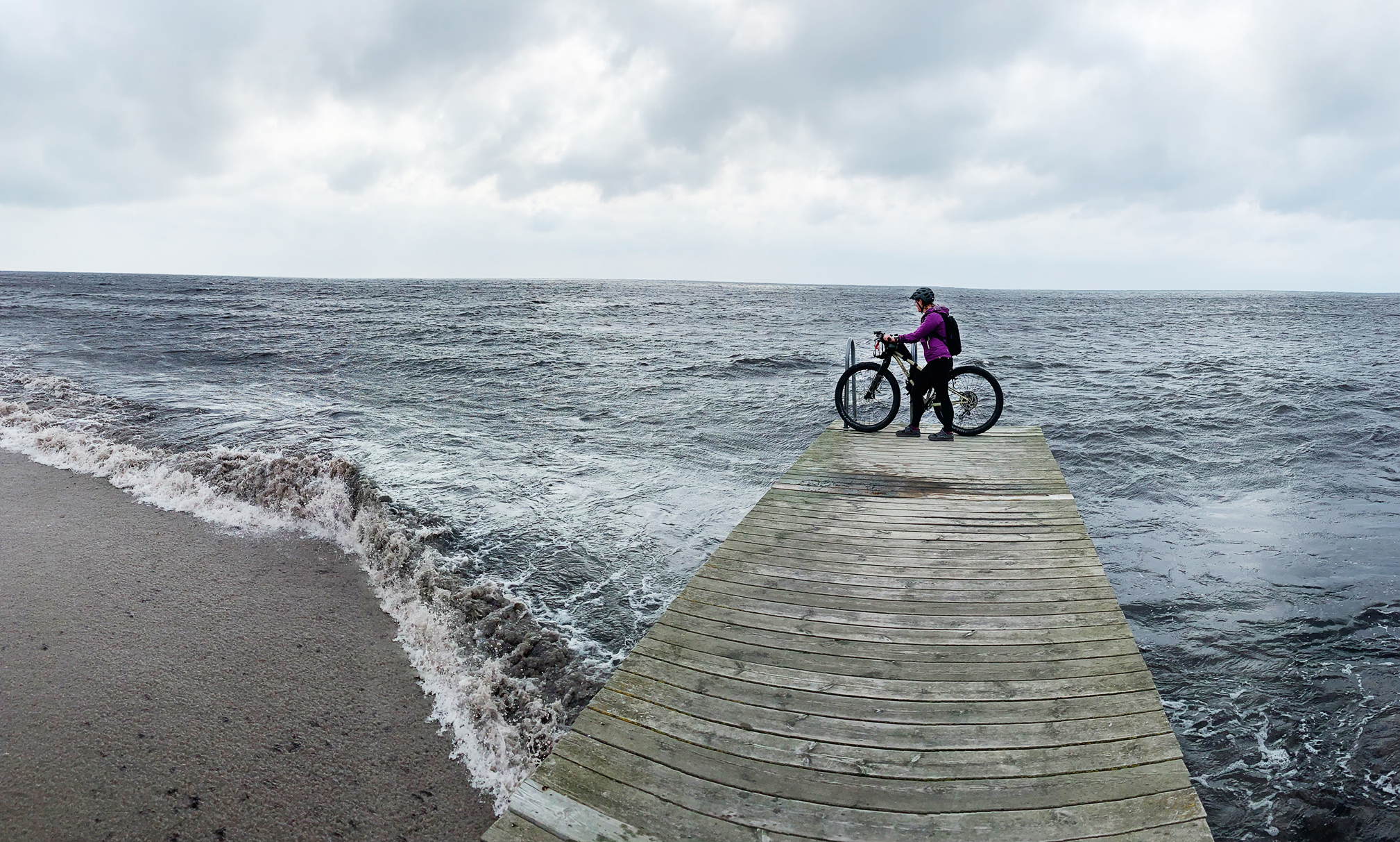 An adventure that was created in one hour on the computer and still provides me with great memories. I highly recommend copying! You can find the tour with all stages and the daily experiences here:
[:de]Einreiseverbote, Quarantäneregeln, Flugstornierungen – für die Urlaubsplanung 2020 war doch erhöhte Kreativität und Flexibilität gefordert. Eigentlich sollte es im Mai nach Schottland zur TGO Challenge gehen und im Herbst mal wieder über den großen Teich nach Amiland. Obwohl ich schon so oft da war, wartet(e) immer noch der Yellowstone Nationalpark darauf, von mir entdeckt zu werden. Vier Tage paddeln auf Flüssen und Seen, zwei Backpacking-Trips und einige Tageswanderungen waren geplant, Flüge gebucht und Permits gesichert. Ich wollte ja endlich mal einen Bären sehen.
Nachdem meine großen Schottland- und USA-Pläne wie eine Seifenblase dank Corona zerplatzten, überlegte ich, was ich sonst unter den gegebenen Umständen mit dem Jahresurlaub anstellen könnte. Unkompliziert und spontan, aber trotzdem abenteuerlich sollte es sein. Und es durfte mein Knie nicht all zu sehr beanspruchen. Die letzte OP lag ja erst knapp drei Monate zurück und die nächste stand kurz bevor – das Kreuzband noch immer defekt. Schließlich entwuchs einem gemütlichen Abend Ende August bei einem Glas Wein der Gedanke: Warum nicht einfach das nagelneue Mountainbike satteln, mit der Fähre nach Schweden übersetzen und sich treiben lassen? Mein Orthopäde sagt schließlich auch immer: "Fahren Sie Fahrrad."
Ich setzte mich kurzerhand an den Computer und überlegte, wie viele Kilometer man in gut zwei Wochen über Stock und Stein entspannt schaffen könnte. Kalmar sah nach einem guten Wendepunkt aus und so überließ ich einfach komoot die grobe Planung im Mountainbike-Modus. Ein bisschen hier und da die Strecke zurecht gezuppelt und die rund 800 Kilometer lange Rundtour war nach einer Stunde fertig.
Mitte September startete ich also mit der Fähre von Rostock nach Trelleborg. Von dort ging es ab nach Norden, tief in die Naturreservate und Wälder hinein. Die Mountainbike-Route, die mir komoot zusammengestellt hatte, führte oftmals über herrlich ruhige Hinterlandstraßen und Gravelroads, aber vor allem an den ersten Tagen auch über felsige Wege und verschlungene Pfade wie den Skåneleden. Der hohen Trail-Kunst noch nicht ganz mächtig, hieß das für mich, das Bike streckenweise schieben und heben zu müssen. Inklusive über Leitern von Viehzäunen. Und so war ich sehr froh, dass ich für den Anfang nicht mehr als 50 Kilometer am Tag eingeplant hatte.
Je weiter ich nach Norden kam, umso wald- und seenreicher wurde die Landschaft. Ein schöner Zeltplatz nach dem nächsten. Trotz der Möglichkeit, wild zelten zu dürfen, übernachtete ich aber in fast der Hälfte aller Nächte in sogenannten Vindskydds – einfachen Holzverschlägen, die nach einer Seite offen und immer mit einer Feuerstelle ausgestattet sind. Lagerfeuerromantik pur! Die meisten davon fand ich relativ spontan über eine Google-Map und komoot und passte die Route von Tag zu Tag ein wenig danach an. Genau die Art von Spontanität, die ich mir erhofft hatte. Unterwegs Geschäfte zum Vorräte auffüllen zu finden, war genauso unkompliziert – das Bierchen am Abend gesichert.
Nach einem Stadtbummel in Kalmar zur Halbzeit fuhr ich auf dem Rückweg gen Süden immer mal wieder am Küstenstreifen entlang, um die salzige Seeluft aufzusaugen. Kleine Fischerhäfen, hübsche Dörfer, schmale Trails und immer wieder die Überraschung, wohin die Route wohl als nächstes führt.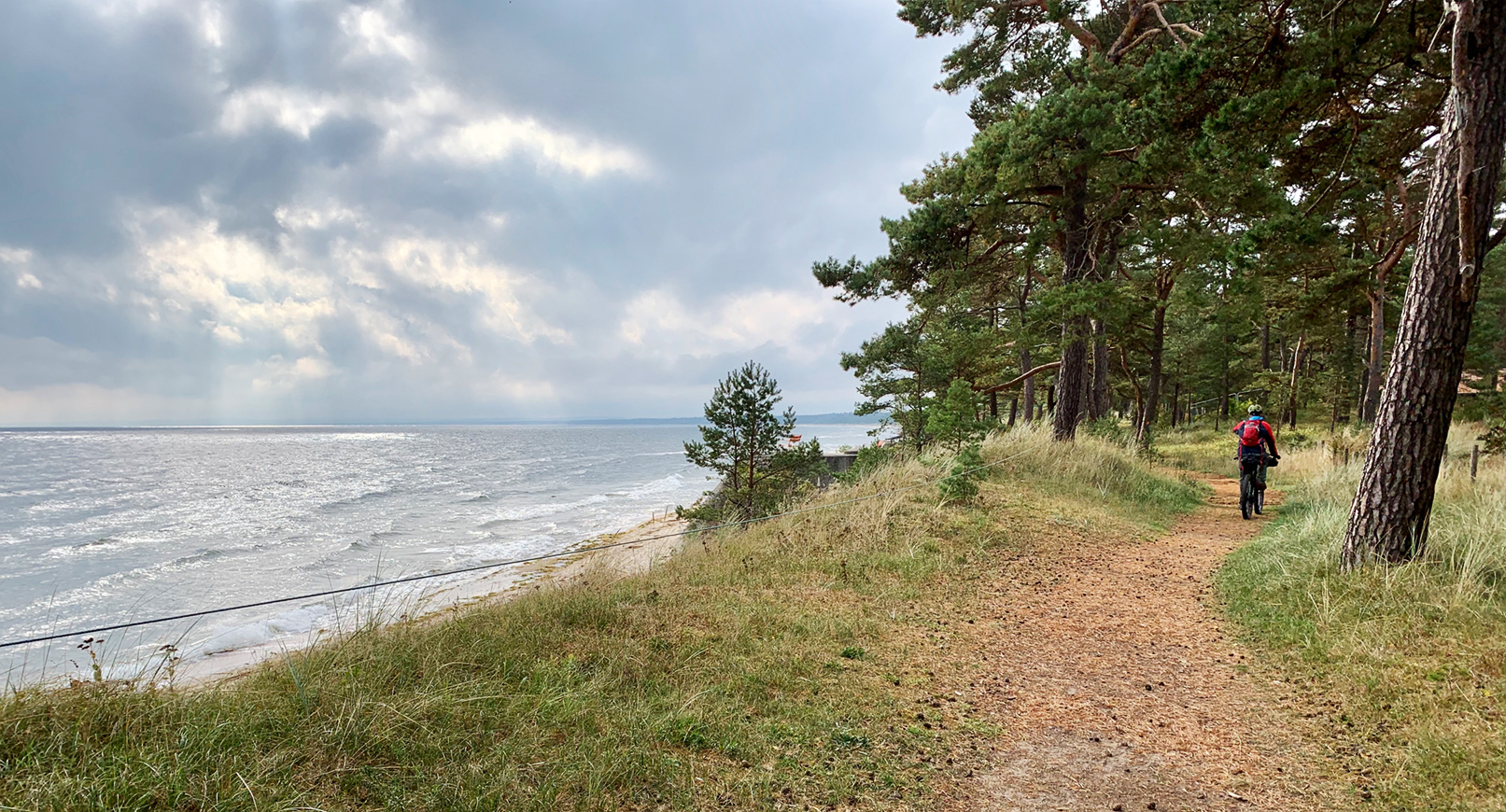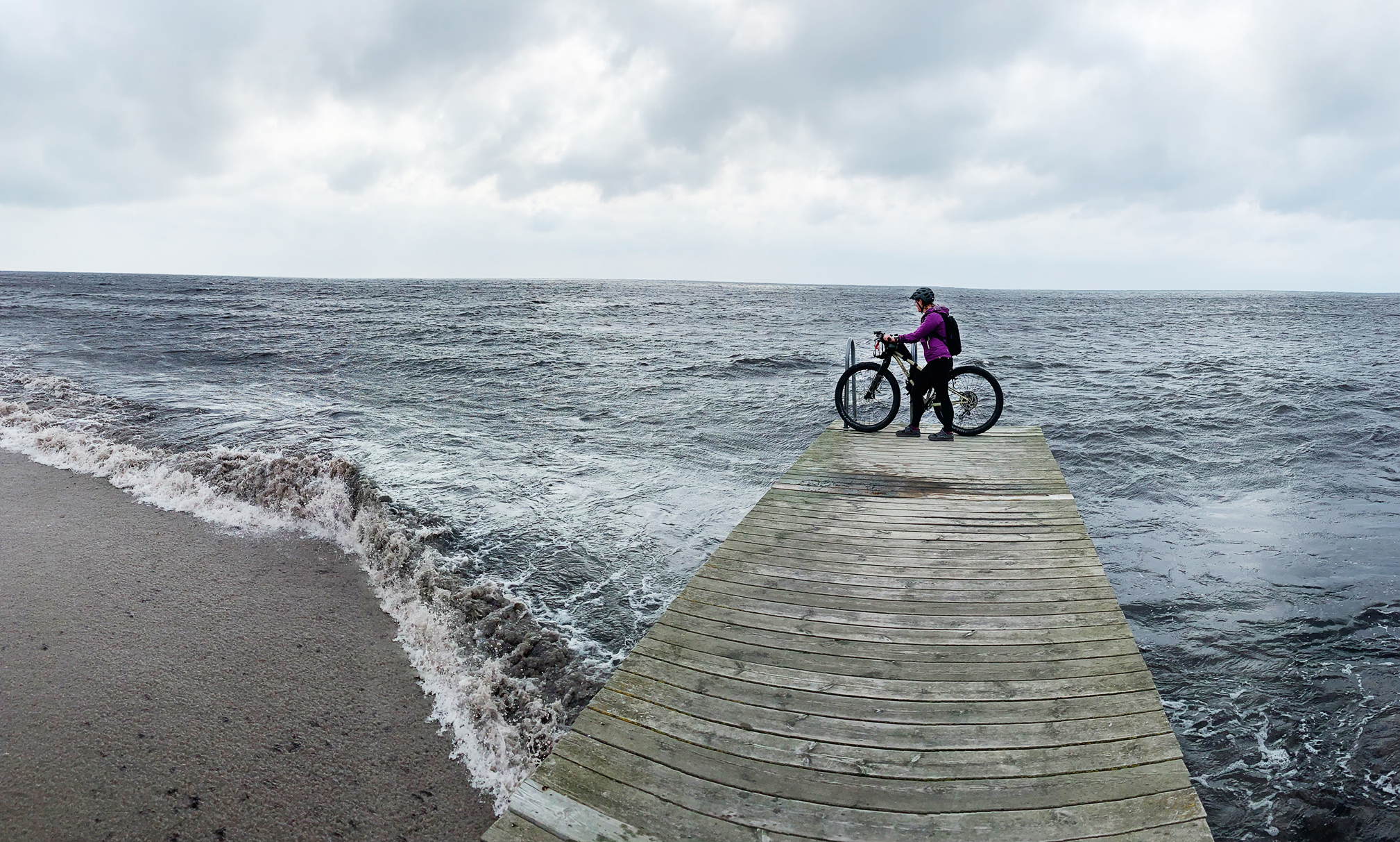 Ein Abenteuer, das in einer Stunde am Computer entstand und mich immer noch mit tollen Erinnerungen versorgt. Nachmachen unbedingt empfohlen! Die Tour mit allen Etappen und den täglichen Erlebnissen findet ihr hier:
[:]