[:en]"Well, you'll come back totally changed!"
No matter who I told two years ago that I just wanted to hike through the entire state of Arizona for two months, the reaction was almost always the same. For many, it was usually associated with the idea of a pilgrimage. Self-discovery and so on. I always tried to put that into perspective in the best possible way. I just wanted to go hiking, enjoy nature. And that just once longer than the usual two to three weeks annual vacation. What difference does that make to me?
Exactly one year ago I finished my thruhike of the Arizona Trail at the Utah state line. Has nothing really changed?
Simplicity
On March 18, 2019 I started my adventure at the Mexican border. On my back a 65 liter backpack with a tent, sleeping pad, quilt, some extra clothes or layers, a solar panel and stuff that I would need on such a trip on foot through the desert. The amount of clothes and utensils was no different than if I had only been on the trail for four days.
My daily routine was absolutely simple: take down the tent, put everything in my backpack, start hiking, eat, find water sources, hike, hike, hike, enjoy the view, find a place for the evening, cook food, prepare sleeping quarters, sleep. And again and again. After a while, every piece of equipment had a permanent place in the backpack. And when nothing was lying around in the morning, everything was packed. It's as simple as that.
Shopping was just as easy. Go into the general store, get a quick overview. A few cookies, lemon cake, tortillas, tuna and chicken and something warm for the evening for X-days. After ten minutes I was usually done. The smaller the shop, the faster the resupply.
Mile after mile of great landscapes, unique postcard motives. Wow-thoughts only alternate with where the best place for a break is. Where is the next water source? How many layers do I put on today? What do I eat from my food bag tonight? Can I pet this snake?
Making contact. No problem. In the outdoors everyone is with the same purpose: get out, enjoy nature, leave the daily routine and the masses behind. Some in their RVs and some – like me – just with their backpack on their back. Somehow, despite the remoteness, I was never alone and yet only surrounded by the people I wanted to spend time with. On the trail, you quickly figure out if you are on the same wavelength and you end up hiking together for weeks. Or you let go after a few hours or even minutes.
This simplicity soon becomes a habit.
Back to reality
From the Hike to the holiday
After these wonderful 800 miles from Mexico to Utah the break from everyday life was not over yet – but it was different. With the rental car we wanted to go from Nevada via Utah to Colorado and California. A great plan, but at the beginning I was totally overwhelmed.
The arrival in Las Vegas with my sparse equipment and the dirty hiking gear put me into a world where I suddenly felt like an alien. With my trekking poles in my hands, the satellite messenger on my backpack and the crumpled water bottles, the dressed-up Las Vegas travellers in the colourful glitter world gave me scornful looks.
During the first big shopping for the big road trip I fled from the huge WalMart after twenty minutes of complete lack of planning. Too many people, too much choice, too much of everything. Switching from my small 65-liter backpack universe to this confusing SUV rental car drove me crazy. Clothes everywhere, which I found superfluous in this amount. Two tents, two sleeping pads, two sleeping bags, boats, paddles, waterproof vests, ice axes, bear canister, fire bowls, wood and gas stoves. And tons of small stuff without system. So much time wasted searching for things. I wanted my simplicity back and more than once I stood frustrated in front of the jam-full car for the first days.
From vacation to everyday life
At some point, every holiday and sabbatical comes to an end. In order to make my return home a little softer, I had planned on another week of buffer time in Berlin – my place of residence – instead of going straight to work the next day as usual.
The return to my apartment felt strange. I had sublet it for the duration of my absence, but there was no sign of that anymore. It was as if I had never been away. Doing the laundry, unpacking luggage, shopping, going through the mail. Everyday life was back. From 100 to zero.
From everyday life to work
"Hello, welcome back. We have some very urgent tasks waiting for you."
Whether I was gone for a week or five months, the reaction of my colleagues was basically the same. Certainly I hadn't expected a huge welcome party. But I would have appreciated a little more interest and care after an unusually long absence with a lot of adventures. Isolated in my (involuntary) individual office I felt quite out of place and excluded.
It took almost a month until my boss had a kind of return conversation with me. Time enough to realize: it can't go on like this. I have to change something. Something that will increase my motivation in the sometimes pointless everyday life of administration. My attempt for an internship in corporate communications in my own company was rejected by my then department head. He thought I would only want to pursue my hobby. It's strange that this can be interpreted as a disadvantage to want to do what you are interested in and studied for. What you "burn for".
Other employers have (also) nice jobs
So the job advertisement of a freelance editor at the provider of route planning and navigation in the outdoor sector "komoot" came out just in the right moment. Komoot – in the southern German language area that means as much as practical and simple. Simplicity was exactly what I was looking for now. So I updated my 13-year-old CV, made an appointment for application photos and sent my documents digitally. About three weeks later I had a video conference with the chief editors and another week later the digital freelancer contract fluttered into my email inbox.
My task: planning exciting tours, creating and describing suitable routes, researching great areas and thus preparing unique adventures in nature for the users. A job that is fun, that makes sense for me. After my self-imposed trial period of one and a half months, I reduced my administrative job to 30 hours a week to have more time for the freelancer job.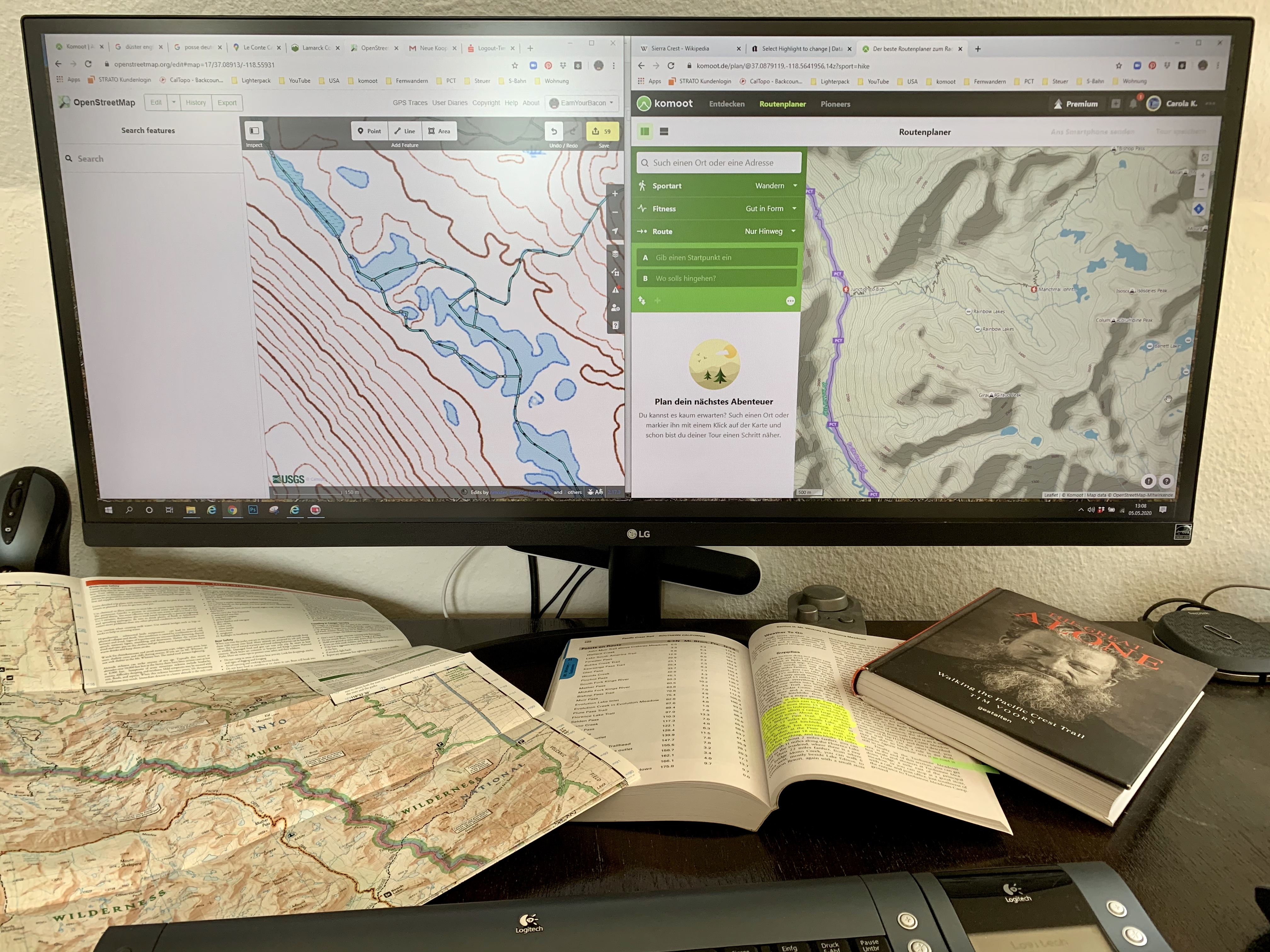 After a good eight months now I can say for myself: the change was absolutely right and important. In the meantime I work much more than before my sabbatical. 48 to 50 hours a week are less the rarity than more the rule. Nevertheless I am much happier and more balanced. It's worth a lot if you can work at least partly with passion on one thing – while the rest pays the rent and secures further sabbaticals.
Komoot as a hundred percent remote job also shows me that it can be absolutely pragmatic on the job and that a company can be successful despite or exactly because of this. An approach from which many companies and administrations can cut a slice. For me it is the step into a changed present and the way into a new future. Germany forever? Certainly not.
A new attitude to life
But it's not only the job that has changed. The weeks in the wilderness, with all its beauty and challenges, have made me extremely relaxed and calm. With the new attitude, not to get upset or annoyed about things that you cannot change, life is much more relaxed. That starts with the weather. It won't rain less if you mope all the time. Instead, there is much more positive energy to look forward to a warm dinner, a dry hut or the next rays of sunshine. Or the new contact lenses, if you've been hiking in the backcountry with just one in your eye for three weeks because the other one broke.
In the meantime I am also ready to leave things to themselves. At the beginning of June 2019, I hiked with my boat into the desert for a five-day river trip to the other end of the Canyonlands National Park – without knowing how I would get back to the car that was parked 80 miles away in Moab. Before the Arizona Trail it was unthinkable for me to get involved in complete lack of planning. But the trail showed me: There is always a solution!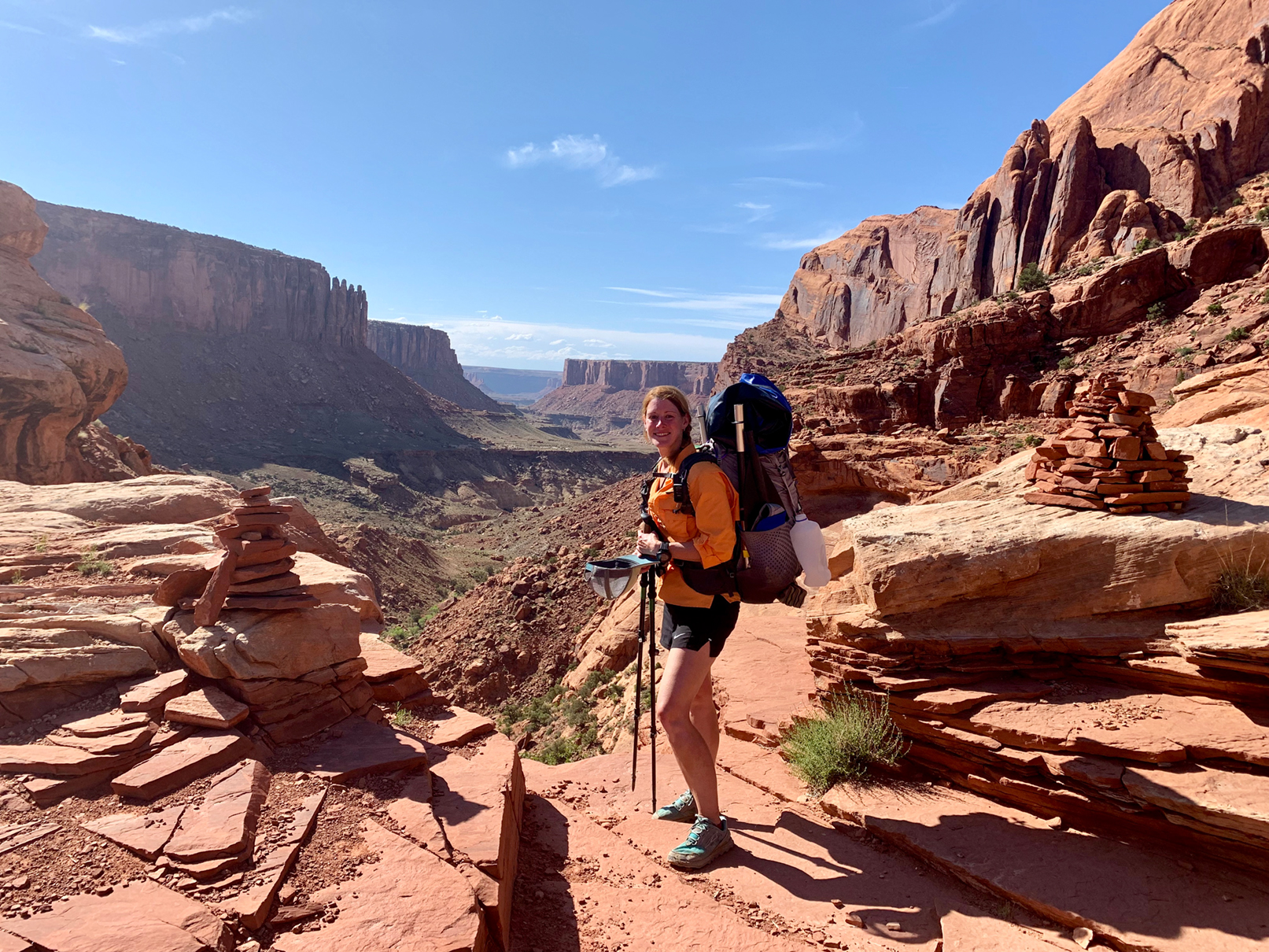 After I had hiked back from the Colorado River through the canyons for two days after the tour, I sat – in the shade of a small bush – next to a trailhead. I made myself a cup of coffee, because I was waiting for the German tourist I had met during the hike, who had offered to take me back to Moab by car. At that moment an older couple asked me if they could give me a ride. Just like that. There is always a solution.
And that's it with hiking?
Of course not. Before I started the Arizona Trail, I asked myself if I would be tired of living in a tent after that. On the contrary. Weeks before crossing the state border to Utah it was obvious to me: the next trail has to come. And it must be longer. 800 miles are gone too fast. So since October I have been saving for the next sabbatical: six months in 2022. The Pacific Crest Trail from Mexico to Canada is firmly planned. Because: Home is, where you pitch your tent.
[:de]"Na, da wirst du ja total verändert wiederkommen!"
Egal, wem ich vor zwei Jahren erzählte, dass ich mal eben zwei Monate durch den kompletten Bundesstaat Arizona wandern will – die Reaktion war fast immer dieselbe. Für viele war das meist mit der Vorstellung einer Pilgerreise verbunden. Selbstfindung und so. Ich versuchte das dann immer bestmöglich zu relativieren. Ich wollte doch nur wandern gehen, die Natur genießen. Und das einfach mal länger als die üblichen zwei bis drei Wochen Jahresurlaub. Was soll das schon groß in mir ändern?
Exakt vor einem Jahr beendete ich meinen Thruhike auf dem Arizona Trail an der Staatsgrenze zu Utah. Hat sich tatsächlich nichts geändert?
Einfachheit
Am 18. März 2019 startete ich mein Abenteuer an der mexikanischen Grenze. Auf dem Rücken einen 65-Liter-Rucksack mit Zelt, Isomatte, Quilt, ein wenig Wechselklamotten beziehungsweise Schichten, einem Solarpanel und Kram, den ich auf so einem Trip zu Fuß durch die Wüste brauchen würde. Dabei war die Menge der Klamotten und Utensilien nicht anders, als wie wenn ich nur vier Tage unterwegs wäre.
Mein Tagesablauf war absolut simpel: Zelt abbauen, alles im Rucksack verstauen, loswandern, essen, Wasserquellen finden, wandern, wandern, wandern, die Aussicht genießen, einen Platz für den Abend finden, Essen kochen, Schlafquartier herrichten, schlafen. Und wieder von vorn. Nach einer gewissen Zeit hatte jeder Ausrüstungsgegenstand einen festen Platz im Rucksack. Und wenn am Morgen nichts mehr herumlag, war folglich alles eingepackt. It's as simple as that.
Einkäufe liefen genauso easy. Rein in den Laden, kurzen Überblick verschaffen. Ein paar Kekse, Zitronenkuchen, Tortillas, Tunfisch und Huhn aus der Plastiktüte und etwas Warmes für den Abend für X-Tage. Nach zehn Minuten war ich meistens fertig. Je kleiner der Laden, desto schneller das Resupply.
Kilometer um Kilometer großartige Landschaften, einzigartige Postkartenmotive. Wow-Gedanken wechseln sich nur damit ab, wo der beste Pausenplatz ist. Wann die nächste Wasserquelle kommt. Wieviel Schichten ziehe ich heute an? Was esse ich heute Abend aus meinem Futterbeutel? Kann ich diese Schlange streicheln?
Kontakte knüpfen. Kein Problem. In der Natur ist jeder mit demselben Zweck: Rauskommen, den Alltag und die Massen hinter sich lassen. Manche in ihren Wohnmobilen und manche – wie ich – nur mit dem Rucksack auf dem Rücken. Irgendwie war ich trotz der Abgeschiedenheit nie allein und doch nur von den Menschen umgeben, mit denen ich Zeit verbringen wollte. Sehr schnell merkt man auf dem Trail, mit wem man auf einer Wellenlänge ist und gegebenenfalls auf einmal Wochen zusammen wandert oder wen man nach ein paar Stunden, gar Minuten ziehen lässt.
Diese Einfachheit wird recht bald zur Gewohnheit.
Zurück zur Realität
Vom Hike in den Urlaub
Nach diesen wunderbaren 1.300 Kilometer von Mexiko nach Utah war die Auszeit noch nicht zu Ende – aber anders. Mit dem Mietauto sollte es von Nevada über Utah nach Colorado und Kalifornien gehen. Ein toller Plan, der mich anfangs aber total überforderte.
Schon die Ankunft in Las Vegas mit meiner spärlichen Ausrüstung und den siffigen Wanderklamotten versetzte mich in eine Welt, in der ich mich plötzlich wie ein Alien fühlte. Mit meinen Trekkingstöcken in der Hand, dem Satellitenmessenger am Rucksack und den zerknitterten Wasserflaschen sahen mich die herausgeputzten Las Vegas-Reisenden in der bunten Glitzerwelt nur schräg von der Seite an.
Beim ersten Großeinkauf für den großen Roadtrip floh ich nach zwanzig Minuten völliger Planlosigkeit aus dem riesigen WalMart. Zu viele Menschen, zu viel Auswahl, von allem zu viel. Von meinem kleinen 65-Liter-Rucksack-Universum auf diesen unübersichtlichen SUV-Mietwagen zu wechseln, machte mich schier wahnsinnig. Überall Klamotten, die ich in dieser Menge überflüssig fand. Zwei Zelte, zwei Isomatten, zwei Schlafsäcke, Boote, Paddel, Wasserschutzwesten, Eisäxte, Bärenkanister, Feuerschalen, Holz- und Gaskocher. Und tonnenweise Kleinkram ohne System. Ewig viel Zeit verschwendet auf der Suche nach Dingen. Ich wollte meine Einfachheit wieder und mehr als einmal stand ich die ersten Tage frustriert vor der vollgestopften Karre.
Vom Urlaub in den Alltag
Irgendwann endet jeder Urlaub und jedes Sabbatical. Um die Heimkehr ein bisschen weicher zu gestalten, hatte ich mir noch eine Woche Pufferzeit in Berlin – meinem Wohnort – eingeplant, statt wie sonst gleich am nächsten Tag auf Arbeit durchzustarten.
Die Rückkehr in meine Wohnung kam mir seltsam fremd vor. Ich hatte sie für die Dauer meiner Abwesenheit untervermietet, aber davon war nichts mehr zu sehen. Als wäre ich nie weggewesen. Wäsche waschen, Gepäck ausräumen, einkaufen, Post durchsehen. Von 100 auf null.
Vom Alltag zur Arbeit
"Hallo, willkommen zurück. Wir haben hier ganz dringende Verfahren, die schon auf dich warten."
Ob ich nun eine Woche weg war oder fünf Monate. Die Reaktion der Kollegen war im Prinzip gleich. Sicherlich hatte ich keine Riesen-Willkommensparty erwartet. Ein bisschen mehr Interesse und Kümmern nach doch ungewohnt langer Abwesenheit mit etlichen Abenteuern aber schon. Isoliert in meinem (unfreiwilligen) Einzelbüro kam ich mir direkt nach meiner Rückkehr ziemlich deplatziert und ausgeschlossen vor.
Fast einen Monat dauerte es, bis mein Chef eine Art Rückkehrgespräch mit mir führte. Zeit genug um festzustellen: so geht es nicht weiter. Ich muss etwas verändern. Etwas, was meine Motivation in dem teilweise so sinnlos erscheinenden Verwaltungsalltag wieder hebt. Mein Versuch, im eigenen Unternehmen mal in die Unternehmenskommunikation hinein zu schnuppern, wurde von meinem damaligen Abteilungsleiter abgeschmettert. Damit würde ich ja nur meinem Hobby nachgehen wollen. Seltsam, dass einem das als Nachteil ausgelegt werden kann, das tun zu wollen, wofür man sich interessiert und studiert hat. Wofür man "brennt".
Andere Arbeitgeber haben (auch) schöne Jobs
Da kam die Stellenanzeige eines Freelance Editors beim Anbieter für Routenplanung und Navigation im Outdoorbereich komoot genau richtig. Komoot – das bedeutet im süddeutschen Sprachraum so viel wie praktisch und einfach. Einfachheit war genau das, was ich jetzt suchte. Also möbelte ich meinen 13 Jahre alten Lebenslauf auf, machte einen Termin für Bewerbungsbilder und schickte meine Unterlagen digital ab. Rund drei Wochen später führte ich ein Gespräch mit den Chefredakteuren per Videokonferenz und eine weitere Woche danach flatterte der digitale Freelancer-Vertrag in mein Email-Postfach.
Meine Aufgabe: Spannende Touren planen, passende Routen erstellen und beschreiben, tolle Gebiete recherchieren und so den Nutzern einzigartige Abenteuer in der Natur vorbereiten. Eine Arbeit, die Spaß macht, die für mich Sinn macht. Nach meiner mir selbstauferlegten Probezeit von anderthalb Monaten reduzierte ich meinen Verwaltungsjob auf 30 Stunden die Woche, um mehr Zeit für den Freelancer-Job zu haben.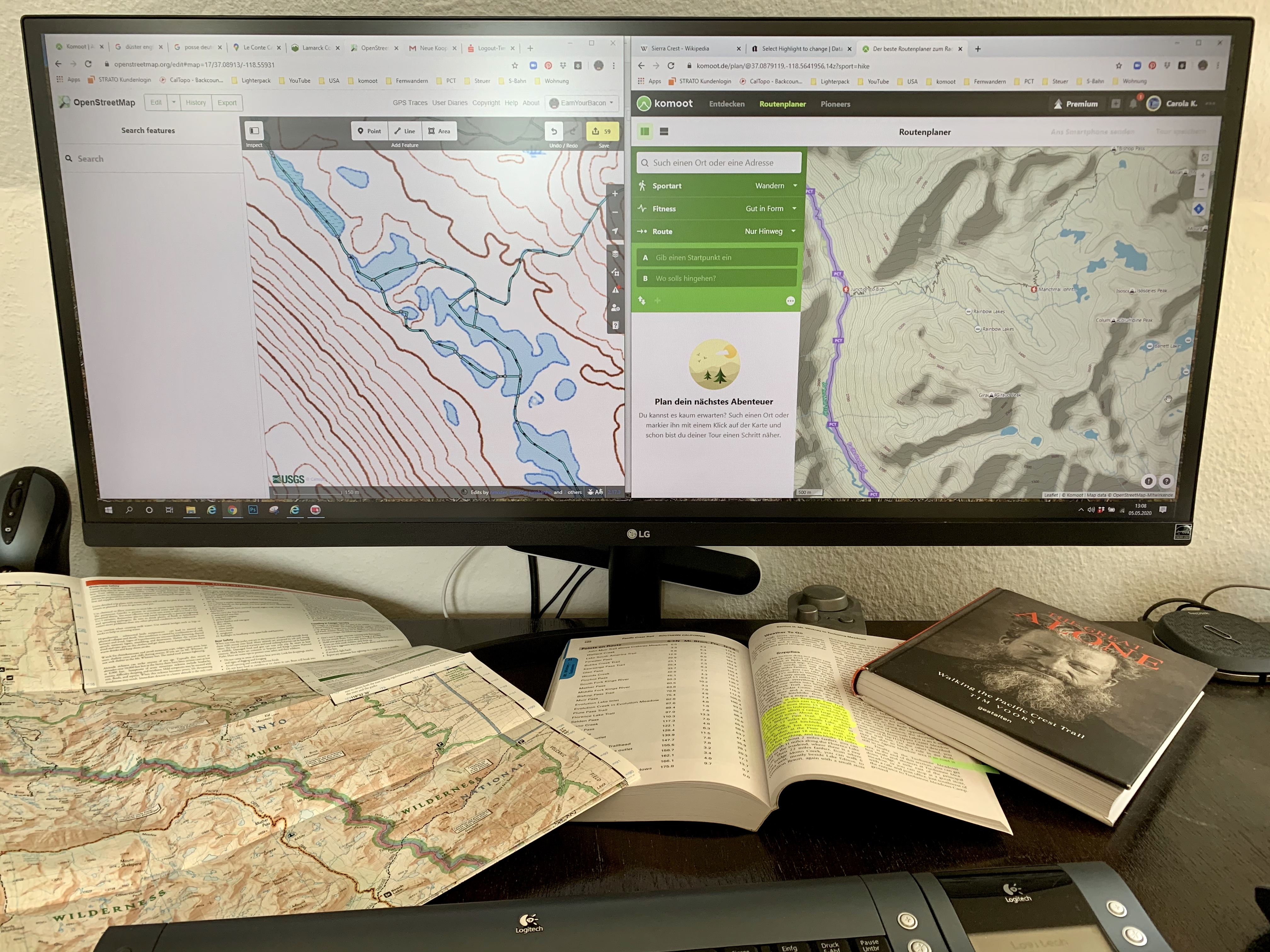 Nach nun gut acht Monaten kann ich für mich sagen: die Veränderung war goldrichtig und wichtig. Inzwischen arbeite ich weit mehr als vor meinem Sabbatical. 48 bis 50 Stunden die Woche sind weniger die Seltenheit als mehr die Regel. Dennoch bin ich um Längen glücklicher und ausgeglichener. Es ist viel wert, wenn man zumindest teilweise mit Leidenschaft an einer Sache arbeiten kann – während der Rest die Miete bezahlt und weitere Sabbaticals sichert.
Komoot als hundertprozentiger Remote-Job zeigt mir zudem, dass es auch im Job absolut pragmatisch zugehen kann und trotzdem oder genau deswegen ein Unternehmen erfolgreich sein kann. Ein Ansatz, von dem sich so manche Firma und Verwaltung eine Scheibe abschneiden kann. Für mich ist es der Schritt in eine veränderte Gegenwart und der Weg in eine neue Zukunft. Deutschland für immer? Sicher nicht.
Eine neue Lebenseinstellung
Aber nicht nur beruflich hat sich bei mir einiges geändert. Die Wochen in der Wildnis, mit all ihren Schönheiten und Herausforderungen, haben mich extrem entschleunigt und gelassener werden lassen. Mit der neuen Einstellung, sich nicht über Dinge aufzuregen oder zu ärgern, die man nicht ändern kann, lebt es sich viel entspannter. Das fängt schon beim Wetter an. Es wird nicht weniger regnen, wenn man die ganze Zeit Trübsal bläst. Stattdessen gibt es viel mehr positive Energie, sich auf ein warmes Dinner, eine trockene Hütte oder die nächsten Sonnenstrahlen zu freuen. Oder die frischen Kontaktlinsen, wenn man schon drei Wochen nur noch mit einer einzigen im Auge durch die Landschaft gewandert ist, weil die andere kaputtging und man in den USA ohne Rezept an keinen Ersatz kommt.
Inzwischen bin ich auch bereit, einfach mal die Dinge ihrem Lauf zu überlassen. Anfang Juni 2019 wanderte ich mit meinem Boot in die Wüste zu einer fünftägigen Flussfahrt zum anderen Ende des Nationalparks Canyonlands – ohne zu wissen, wie ich hinterher die rund 130 Kilometer wieder zum Auto zurückkommen würde. Vor dem Arizona Trail für mich undenkbar, mich auf völlige Planungslosigkeit einzulassen. Der Trail aber hat mir gezeigt: Es findet sich immer eine Lösung!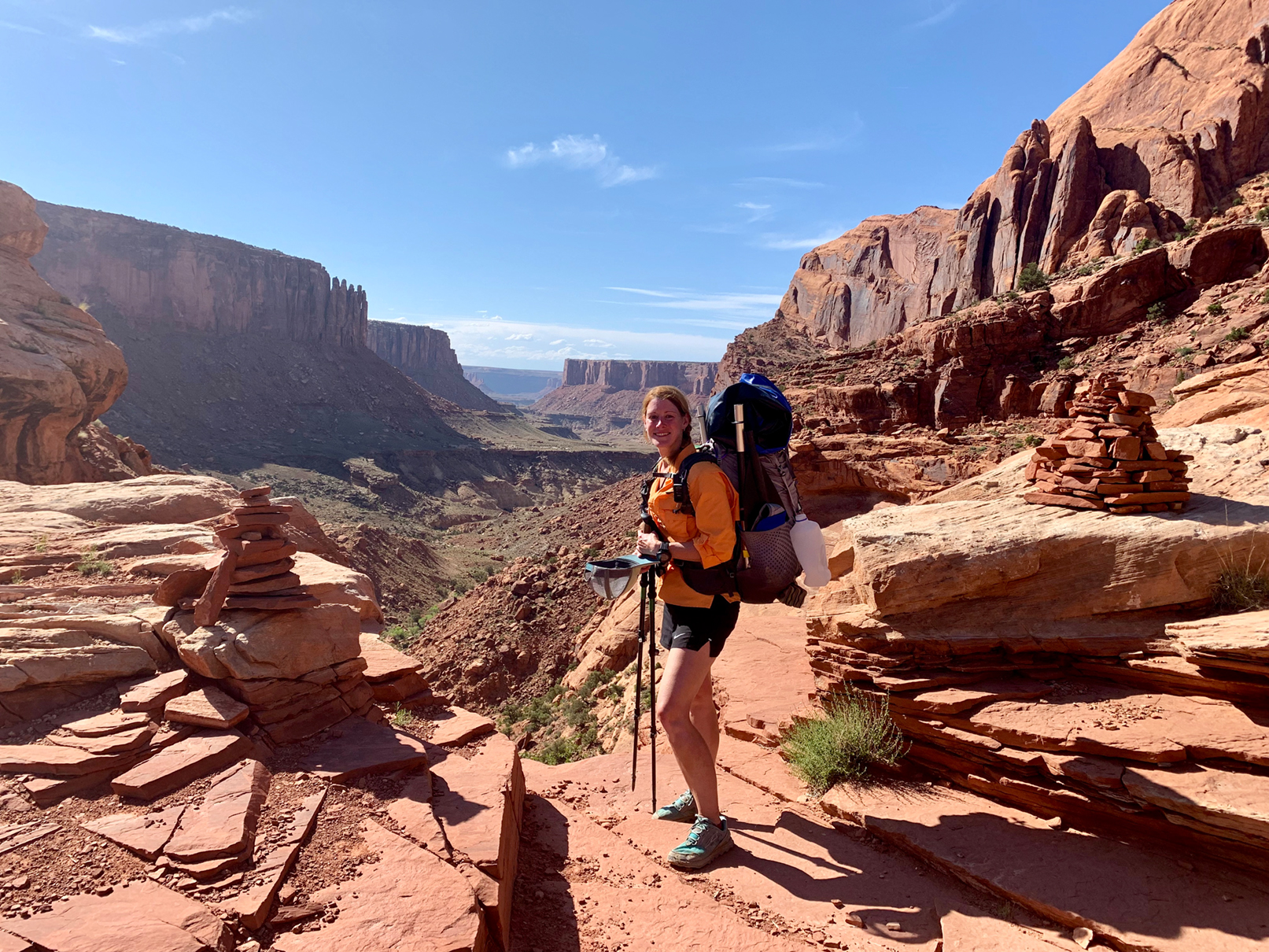 Nachdem ich nach der Tour zwei Tage vom Colorado River durch die Canyons wieder zurückgewandert war, saß ich – im Schatten eines kleinen Busches – neben einem Wanderparkplatz. Ich machte mir noch einen Kaffee, denn ich wartete auf die deutsche Touristin, die ich während der Wanderung getroffen hatte und die angeboten hatte, mich wieder nach Moab zum Auto zurückzubringen. In dem Moment fragte mich ein älteres Ehepaar, ob es mich irgendwo hin mitnehmen könnte. Einfach so. Es findet sich immer eine Lösung.
Und das wars mit Wandern?
Natürlich nicht. Vor dem Arizona Trail habe ich mir die Frage gestellt, ob ich danach erstmal satt bin vom Leben im Zelt. Ganz im Gegenteil. Schon Wochen vor dem Überschreiten der Staatsgrenze zu Utah war klar: der nächste Trail muss her. Und er muss länger sein. 1.300 Kilometer sind zu schnell vorbei. Seit Oktober spare ich also auf die nächste Auszeit: sechs Monate in 2022. Der Pacific Crest Trail von Mexiko nach Kanada ist fest geplant. Denn: Home is, where you pitch your tent.