[:en]
At the beginning of November in Berlin. Weather is cold, nearly freezing. Clouds cover the sky, most of the tree leaves have already fallen to the ground. It is raining, it's uncomfortable. A typical day in November.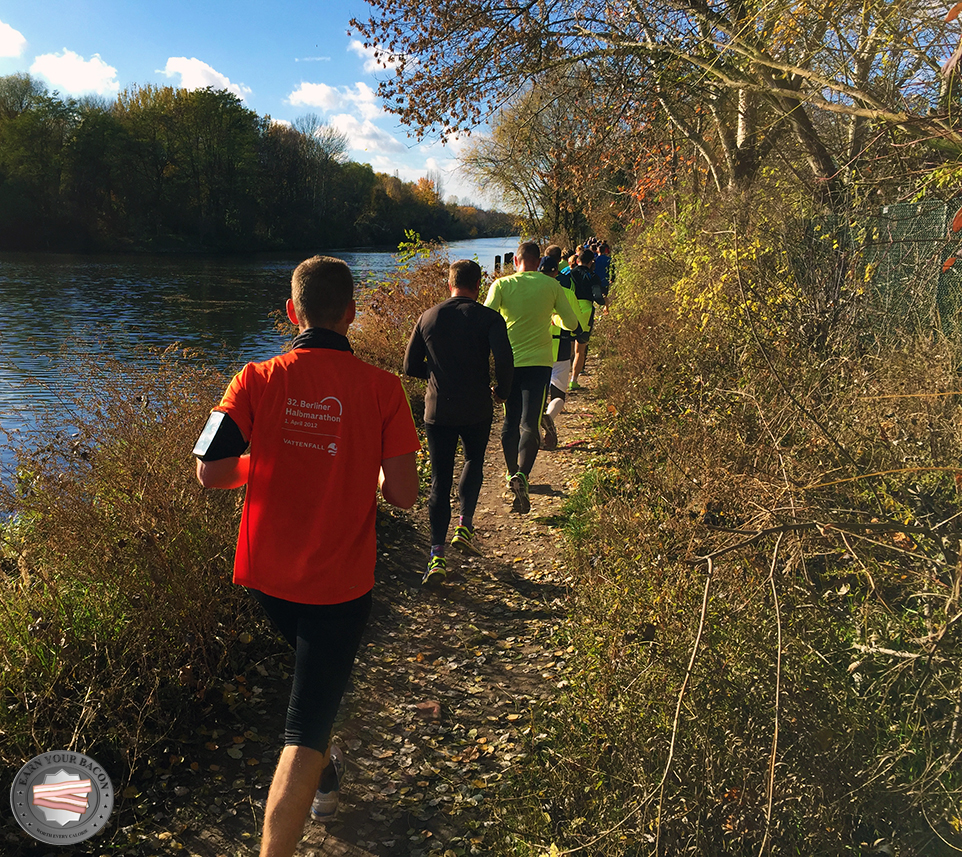 Thankfully, 8th November was not one of these days. 59 °F and sunshine were comforting 1.500 runners meeting in the small town of Teltow to challenge 7k, 14k or 21k. It did not take too long for me to find the suitable running gear for this summerlike weather: short running tights and a T-shirt. Compared to this, I was colder in October, running the XLETIX Challenge.
The Knesebeck Bridge was both start and finish. I was already very used to the course since I run this area every week. So I was quite curious how hundreds of runners would loop on this rooty narrow path returning from the second bridge. Smelled like going in single file.
At 10:30 a.m. all competitors over all distances began to move. A little detour to Teltow, then the course was leading straight to Lichterfelde over the Berlin Wall Trail. Running the first kilometers, it felt like being at the Rennsteiglauf in May. The trail was as narrow and the the number of runners such as high. Getting ahead was nearly impossible due to trees on the left side of the trail. On the right sight, you would might have fallen into the swamp. Arriving at the second bridge as turning point, there was finally enough space for each runner. Then the path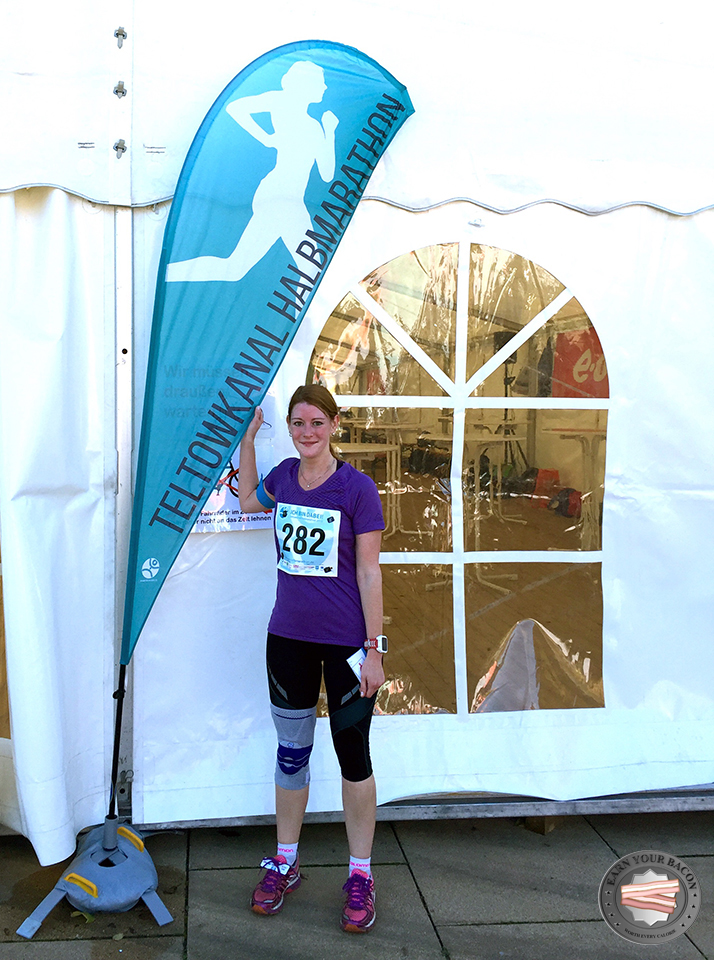 narrowed considerably.
You had to rely on sportsmanship, so that you could go ahead of slower runners.
Like pearls on a string all competitors were going in single file on the trail winding directly at the channel water. Unfortunately, there were – as usual – some sports fans thinking they were at a car race, leaving no space in a curve for faster runners to go ahead. So far for gamesmanship. On the contrary, the preparation of the course was just perfect. Every root, stone or any other tripping hazard had been marked with light colour to prevent runners from falling.
Crossing the small wooden bridge at Stich-Channel, the finish came really close. I was astonished to see some single runners trying to run against the mass of competitors at this narrow trail. Either they did not know that the Teltowkanal Half Marathon took place that day or they just did not care. Wrong-way runners J
I jumped up the stone stairs leading on the bridge right before the finish, taking two stairs at once. Since I knew this course that well, I could go ahead on four runners at this small spot.
After 39:39 minutes I passed the finish line. Given that I dawdled that much before the start and the high number of runners on this narrow course, I was quite satisfied with my finish time. If I wanted to run for a personal best, I would have started right in front of all the other runners. Pity that no medals were issued after the race. Although I knew the fact, I felt a little naked, running through the finish but no one handed out a souvenir.
If it fits my race plan, I will be part of that race again in 2016 – just around my corner.
[:de]
Anfang November in Berlin. Es ist kalt, nahe am Gefrierpunkt. Der Himmel ist grau, die Blätter welk und die meisten schon von den Bäumen gefallen. Es regnet, es ist ungemütlich. So stellt man sich einen typischen Tag im November vor.
Ganz anders der 8. November 2015, der Tag des Teltowkanal-Halbmarathons. 15 Grad und Sonnenschein verwöhnte die 1.500 Läufer, die sich im sonst so ruhigen Teltow für die 7.1, 14.1 oder 21.1 km (1-3 Runden) Strecke entlang des Teltowkanals versammelt hatten. Die Frage nach dem heutigen Lauf-Outfit hatte ich mir daher recht schnell beantwortet: kurze Lauftights, kurzärmliges Laufshirt. Im November! Da hatte ich schon im Oktober bei der XLETIX Challenge mehr gefroren.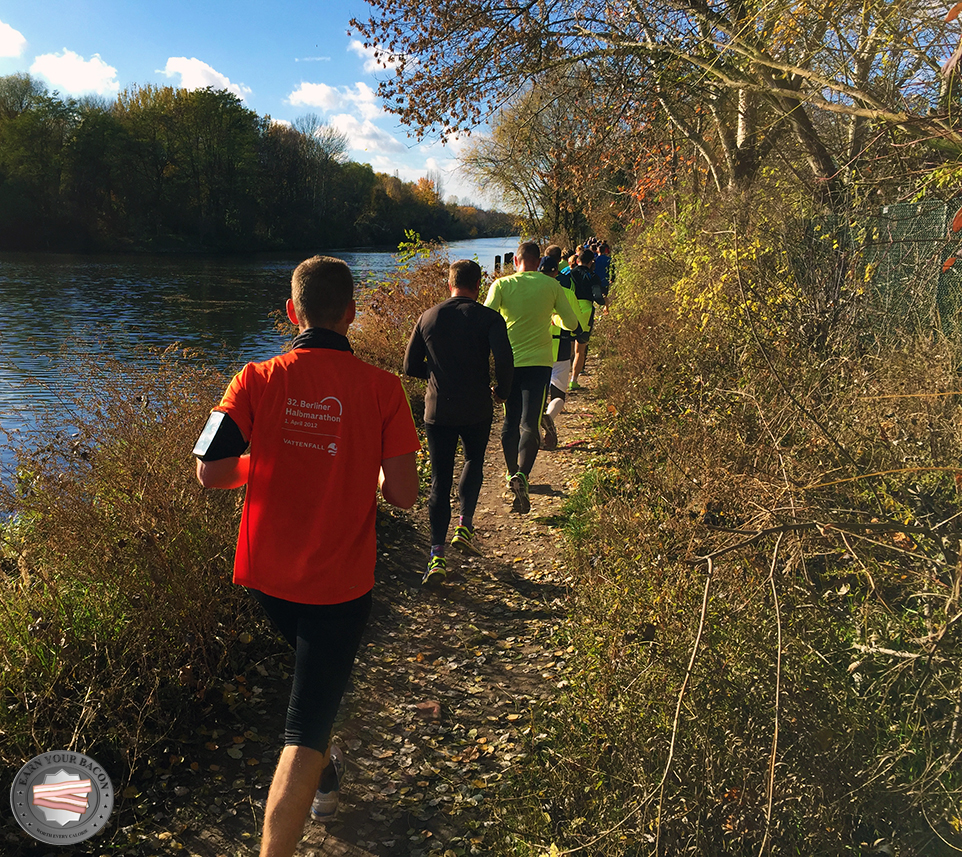 Start, Ziel und Startunterlagenausgabe fand sich alles in Höhe der Knesebeckbrücke in Teltow. Die zu Wettkampfstrecke war mir bestens bekannt, laufe ich doch bestimmt jede zweite Trainingseinheit hier entlang. Umso gespannter war ich darauf, wie sich hunderte von Läufern über den wurzelig-waldigen Abschnitt winden, der nach der Kehrtwende auf der Brücke Höhe Wismarer Straße wieder zurück zum Ziel führt. Das roch nach Gänsemarsch.
Um 10.30 Uhr setzte sich das Feld über alle Distanzen in Bewegung. Eine kleine Schleife lang ging es noch Richtung Teltow hinein, dann aber schnurgerade auf dem Berliner Mauerweg nach Lichterfelde. Gerade auf den ersten Kilometern fühlte ich mich sehr an Rennsteiglauf erinnert. Wegbreite und Füllstand passten.  Überholen war nur bedingt möglich, da links vom Mauerweg einem Bäume entgegenkommen und man rechts in den Sumpf fällt.  Kurz vor der Kehrtwende auf der Brücke zog sich die Masse soweit auseinander, dass genug Platz zum Entfalten war.
Auf der Rücktour konnte man nur auf verständige, sportliche Mitstreiter hoffen, die Platz machten, sobald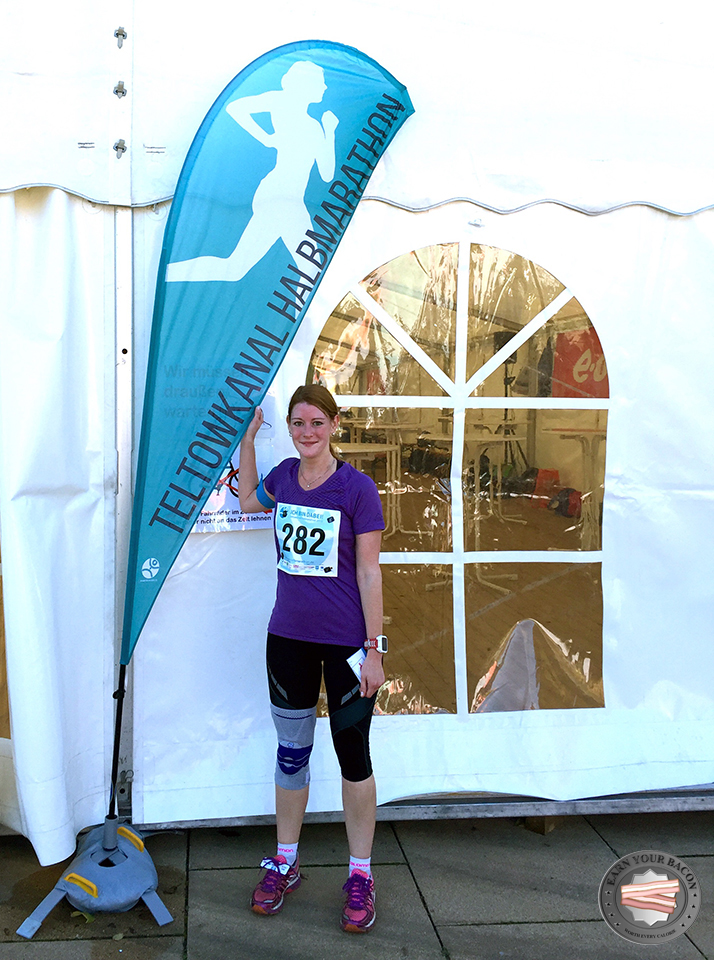 man sich von hinten als schneller entpuppte. Aufgereiht wie Perlen auf dem Schnürchchen liefen die Wettkämpfer alle hintereinander auf dem singletrailähnlichen Pfad direkt am Kanalwasser entlang. Leider gab es aber auch immer wieder Sportsfreunde, die dachten, sie seien beim Autorennen und müssten in der Kurve dicht machen. So unsportlich das Verhalten manch eines Laufkamerades, so gut war die Vorbereitung auf der Strecke. Alle potentiellen Stolperfallen wie Steine, Wurzeln und Wegschäden waren wie im Vorjahr mit neonleuchtender Sprühfarbe markiert.
Hinüber ging es über die kleine Holzbrücke am Stichkanal. Von dort aus war es nicht mehr weit zum Ziel. Tatsächlich kamen den hunderten Läufern ab und an auf dem schmalen Stück auch Läufer entgegen, die anscheinend verplant hatten, dass heute, hier und jetzt der Teltowkanal-Halbmarathon stattfand. Geisterläufer 🙂
Auf die Brücke zum Zielbogen hinauf hüpfte ich über die Steintreppe, nahm gleich jeweils zwei Stufen auf einmal und überholte auf den gerade mal drei Metern bestimmt vier Läufer. Schön, wenn man die Strecke so gut kennt.

39:39 Minuten steht auf meiner Urkunde. Passt. Dafür dass ich so am Start so getrödelt hab, kein Zeitziel hatte und die Strecke mit Läufern verstopft war, ist das eine schöne Zeit. Wenn ich mal eine gute Zeit hier erreichen will, muss ich eben rechtzeitig ganz vorne stehen. Leider gab es keine Medaille. Das wusste ich zwar schon vorher, aber irgendwie kommt man sich doch nackt vor, wenn man über die Ziellinie läuft und der – für mich – feierliche Akt des Medailleüberreichens fehlt.
Wenn es passt, bin ich nächstes Jahr gern wieder dabei – auf meiner Heimstrecke.
[:]