[:en]"Honey, don't you want to visit your buddy again?"
Completely unselfishly I had the idea last November to spend the winter holidays in Florida – the section on the Florida Trail already planned in my head. Two years ago, on my hike from the lake to the ocean, I realized that the flat sunshine state is not so bad after all. As one of the eleven National Scenic Trails, all of them long distance hiking trails, it crosses the whole state. Over 1,300 miles of playground on the Florida Trail for Caro.
But since the Florida Trail is not only rich in palm trees and swampland, but also leads through asphalt roads and shadowless dikes, I chose something more wooded for my five days. At least that's what I thought.
The first day – roasting non-stop
Around 10 am I am dropped off at the large parking lot for the boat friends and start to stomp on the dike. A flock of mixed birds is fighting over some fish remains on the banks of the Kissimmee River. Vultures, seagulls, herons, storks and pelicans – here nobody takes anything from each other when it comes to easily earned food.
The two-lane service road runs straight through the meadows. Time enough to record the first videos. Stupid that I have activated the photo mode and just talk the first clever sentences into the void. At the same time I analyze the tracks in the sandy grooves. Relatively shortly before me at least one man with trekking poles must have walked through here. That's easy to say, because no car has yet driven over the footprints.
After about 8.7 brooding hot miles finally some trees come into sight. Actually I wanted to take a break after 6 miles. But when Guthook advertises shady places in 2.5 miles, you just waft further through the heat. Close to a lock a few high palm trees and oaks provide wonderful shade. I let myself fall into the grass and unpack my food bag.
"Hey there" it suddenly sounds from behind. A hiker is standing behind me… with trekking poles. I'm getting better at tracking. We chat briefly and share the information about the day's goal. There is another hiker arriving. The two obviously hike together. Since I have just started my break, I let them go and hear them murmur "That is a much better place than hiding behind a car."
Roadwalk
After my break I find myself on an asphalt road. It'll be fine, I think. Only much later I realize that I am on a nearly 8 miles long road section. What the heck. Roadwalking is just part of it in Florida.
After several exhausting miles I see the two hikers coming out of the thicket in front of me. But as much as I try, from here on we have about the same pace on the oven-like road. I am distracted by a vulture, which is feeding on a raccoon carcass and the sand hill cranes want to be photographed, too. At the next shady place at the roadside I find them again and join them.
Warren and Jason, later known as Major + and 50 Percent, are war veterans who are sponsored by an organization to hike long distance trails in the USA. Pretty cool stuff! Both intend to thruhike the 1,300 miles completely. From that moment on, we decide to hike together for the rest of the day, because we have the same goal: the campground in Yates Marsh.
On the last few meters the trail turns out to be what you imagine Florida to be – green, bushy, tropical. At the trailhead there is a little bit of trail magic. Since I have enough food with me, I take only a small bag of antiseptic ointment with me.
Camping in paradise
Yates Marsh South Campground is a so-called primitive campground. There are no toilets or other amenities, but several benches, a fire ring and even water from a pump. In addition, there are beautiful campspots surrounded by palm trees and ancient oaks. Nothing more is needed to please the hiker's heart.
From my research on YouTube and Guthook I know that there is supposed to be a pond with a 14-foot female alligator nearby. Unfortunately our shoes flip so loudly that we only hear the alligator disappearing with a big splash. For a short time I can still see the eyes peeking out of the pond, then the mighty animal has submerged. What a pity, we spend the evening at the campfire, untypically for thruhikers. Pity.
We spend the evening at the campfire, untypically for thruhikers. Untypical because we are actually much too tired. But since the sun already sets at 6 pm, the fire is on early and will be off pretty soon. Around 7 pm we withdraw into our tents and read a little bit. At 8 pm the lights are out. Everywhere.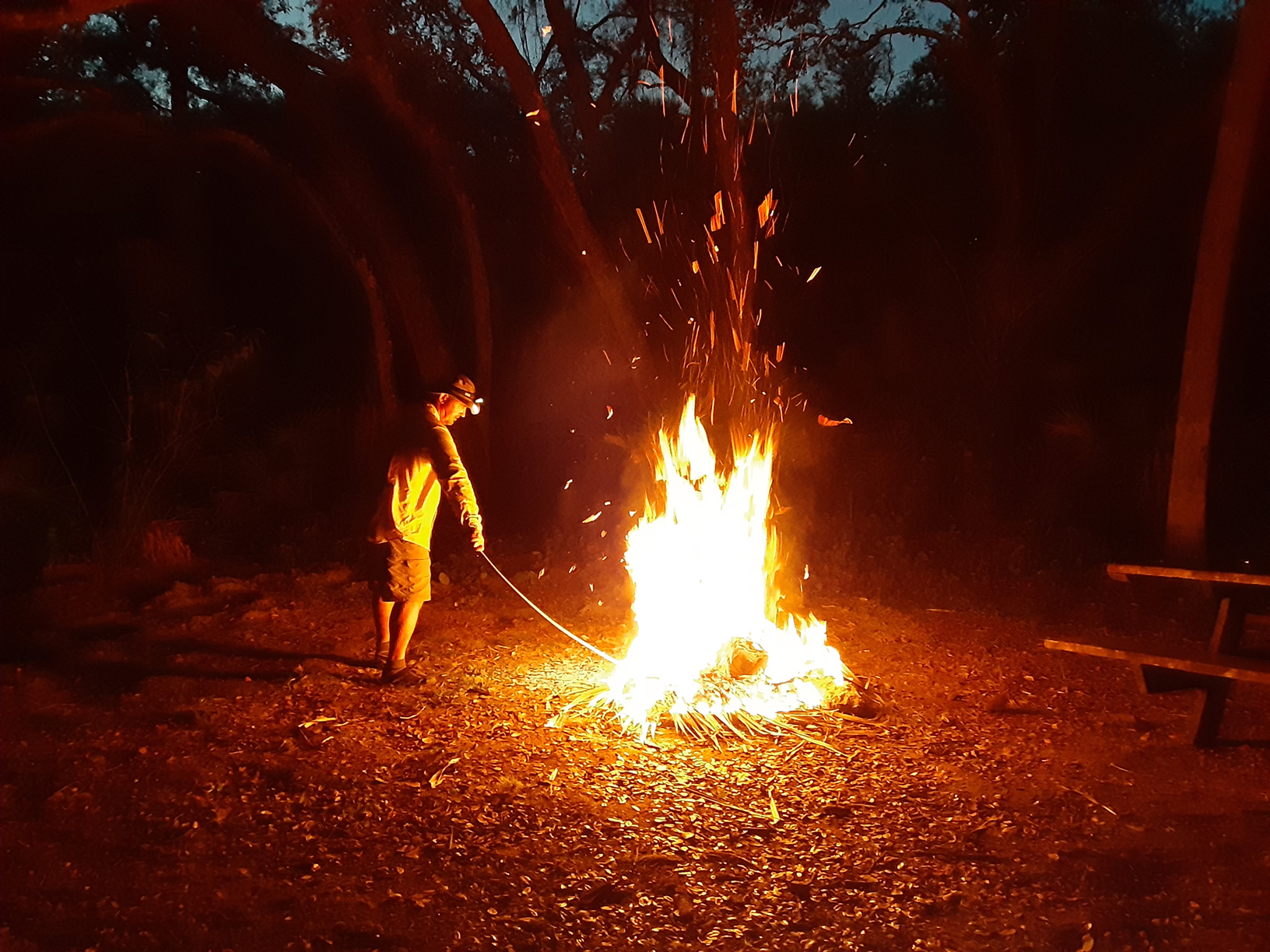 [:de]Looking for the English Version? Endless Roadwalk
---
"Schatz, willst du nicht mal wieder deinen Kumpel besuchen?"
Völlig uneigennützig kam mir letzten November die Idee, die Winterferien doch in Florida zu verbringen – die Route über den Florida Trail in meinem Kopf schon quasi fertig geplant. Vor zwei Jahren hatte ich auf meiner Wanderung vom See zum Ozean festgestellt, dass der flache Sonnenstaat doch nicht so schlecht ist. Immerhin führt einer der elf National Scenic Trails, allesamt Langdistanzwanderwege, einmal durch den ganzen Bundesstaat. Über 2.000 Kilometer Spielplatz auf dem Florida Trail für Caro.
Da der Florida Trail aber nicht nur reich an Palmen und Sumpfgebiet ist, sondern auch etliche Passagen über Asphaltstraßen und schattenlose Deiche führen, suchte ich mir für meine fünf Tage was eher Waldiges aus. Dachte ich zumindest.
Der erste Tag – Braten am laufenden Band
Gegen zehn Uhr vormittags werde ich auf dem großen Parkplatz für die Bootsfreunde abgesetzt und stiefele los auf den Deich. Eine Schar gemischter Vögel streitet sich am Ufer des Kissimmee River um einige Fischreste. Geier, Möwen, Reiher, Störche und Pelikane – hier lässt sich keiner vom anderen was nehmen, wenn's um leicht verdientes Futter geht.
Schnurgerade zieht sich die zweispurige Servicestraße durch die Wiesen. Zeit genug, schonmal die ersten Videos aufzunehmen. Doof nur, dass ich den Fotomodus aktiviert habe und die ersten schlauen Sätze einfach nur ins Leere quatsche. Nebenher analysiere ich die Spuren in den sandigen Rillen. Relativ kurz vor mir muss mindestens ein Mann mit Trekkingstöcken hier durchgewandert sein. Das lässt sich insofern leicht sagen, weil noch kein Auto über die Fußspuren gefahren ist.
Nach rund 14 brütend heißen Kilometern kommen endlich erreichbare Bäume in Sicht. Eigentlich wollte ich schon nach zehn Kilometern mal ein Päuschen einlegen. Wenn aber Guthook mit schattigen Plätzchen in vier weiteren Kilometern wirbt, wabert man eben weiter durch die Hitze. Nahe einer Schleuse spenden ein paar hohe Palmen und Eichen herrlichen Schatten. Ich lasse mich ins Gras fallen und packe meinen Fressbeutel aus.
"Hey there" ertönt es von hinten. Da steht auf einmal ein Wanderer hinter mir… mit Trekkingstöcken. Ich werde besser im Spurenlesen. Wir schwatzen kurz und teilen die Info, was das Tagesziel ist. Da kommt ein weiterer Wanderer an. Die beiden wandern offensichtlich zusammen. Weil ich meine Pause gerade erst begonnen habe, lasse ich die beiden ziehen und höre noch das Gemurmel "That is a much better place than hiding behind a car."
Roadwalk
Nach meiner Pause finde ich mich auf einmal auf einer Asphaltstraße wieder. Wird schon gehen, denke ich. Erst viel später realisiere ich, dass ich mich auf einem fast 12 Kilometer langen Straßenabschnitt befinde. Was soll's. Roadwalk gehört in Florida eben einfach dazu.
Nach etlichen mühsamen Kilometern sehe ich die beiden Wanderer vor mir aus dem Dickicht kommen. Cool, ich habe sie fast eingeholt. Aber so sehr ich mich auch anstrenge, ab hier haben wir etwa die gleiche Geschwindigkeit auf der backofengleichen Straße. Zudem lenkt mich ein Geier ab, der sich über einen Waschbärenkadaver hermacht und die Sandhügelkraniche wollen auch fotografiert werden.
Beim nächsten schattigen Platz am Straßenrand finde die beiden wieder und geselle mich zu ihnen. Warren und Jason, später bekannt als Major + und 50 Percent, sind Kriegsveteranen, die von einer Organisation gesponsert werden, um Langdistanzwege in den USA wandern zu können. Ziemlich coole Sache! Beide haben vor, die mehr als 2.000 Kilometer komplett zu wandern. Von dem Moment an, beschließen wir, den Rest des Tages zusammen zu wandern, denn wir haben dasselbe Ziel: den Campground im Yates Marsh.
Auf den letzten Metern wird der Weg dann doch noch so, wie man sich Florida vorstellt – grün, buschig, tropisch. Am Trailhead gibt es ein wenig Trail Magic. Da ich genug Essen dabeihabe, nehme ich mir nur ein kleines Tütchen antiseptische Creme mit.
Campen im Paradies
Yates Marsh South Campground ist ein sogenannter primitiver Campingplatz. Es gibt keine Toiletten oder sonstige Annehmlichkeiten, aber mehrere Sitzbänke, einen Feuerring und sogar Wasser aus einer Pumpe. Dazu wunderschöne Campingflächen umringt von Palmen und uralten Eichen. Mehr braucht es nicht, um das Hiker-Herz zu erfreuen.
Von meinen Recherchen auf YouTube und Guthook weiß ich, dass sich ganz in der Nähe ein Teich mit einem vier Meter langen Alligatorweibchen befinden soll. In Flipflops machen Warren und ich einen Abstecher dorthin. Leider flippen unsere Schuhe so laut, dass wir den Alligator mit einem großen Platsch nur noch verschwinden hören. Ganz kurz sehe ich noch die Augen aus dem Teich luken, dann ist das mächtige Tier abgetaucht. Schade.
Den Abend verbringen wir ganz thruhiker-untypisch am Lagerfeuer. Untypisch deshalb, weil wir eigentlich viel zu müde sind. Aber da bereits um 18 Uhr die Sonne untergeht, ist das Feuer früh an und auch ziemlich bald aus. Gegen 19 Uhr ziehen wir uns in unsere Zelte zurück und lesen noch ein wenig. Um 20 Uhr ist das Licht aus. Bei allen.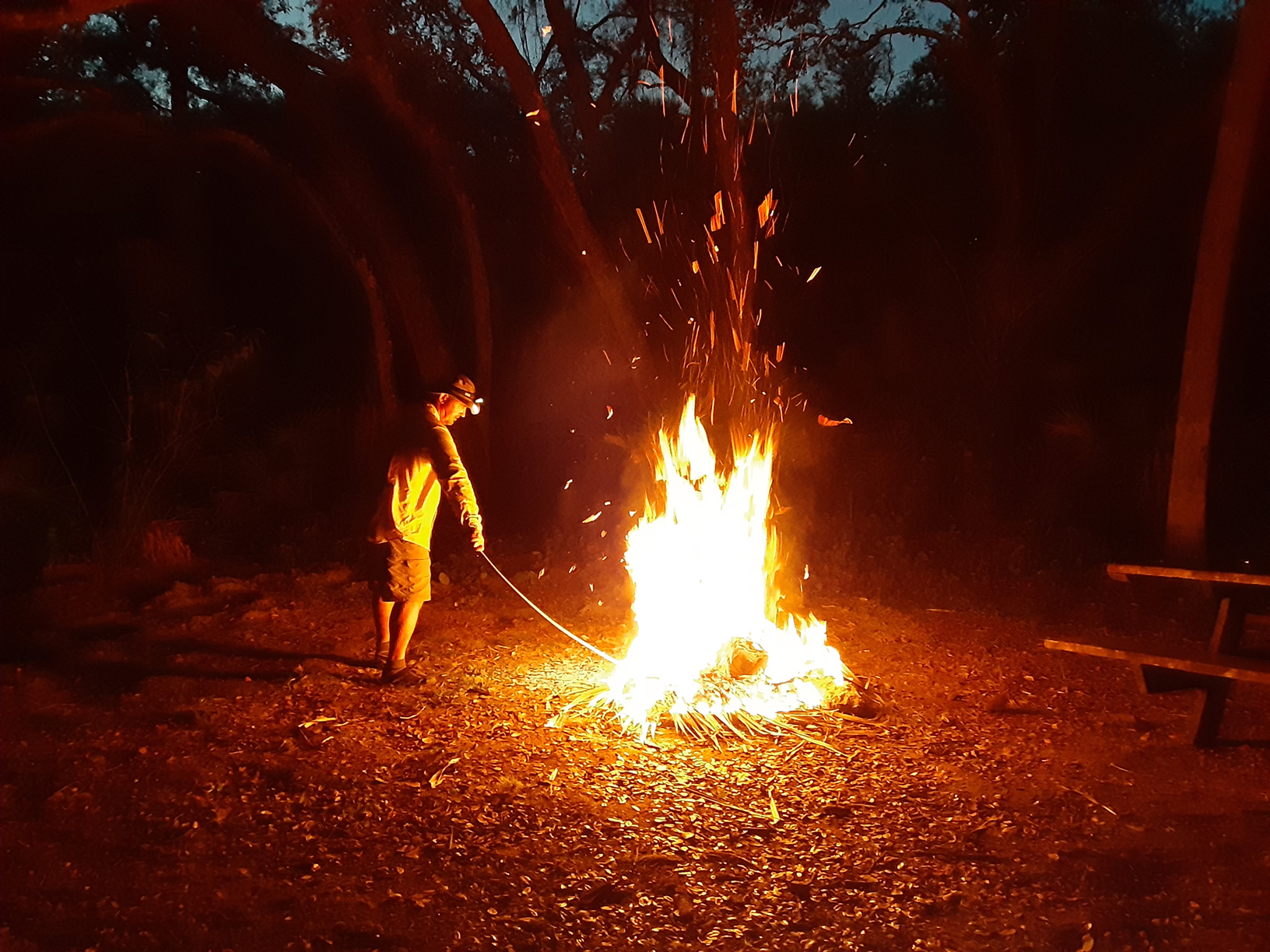 [:]