[:en]On the morning of April 9th, Ranger and I leave early. It's supposed to be the last of three super-hot days for now – on a stage of the AZT where there are no water sources. Actually I wanted to store some water gallons here in March before the start of the trail, but my rental car was absolutely not designed for the road conditions that prevail here. I was all the happier when I read a few days ago in the Guthook app that a trail angel had just dropped off several gallons here. And indeed: in the supply box at the Telegraph Canyon we find enough water to survive the stage even with over 90 degrees and bright sun.
A siesta to the hardest midday heat is nevertheless necessary. There is almost no shade here. If you see only one tree for miles, then you take advantage of it. About two hours Ranger and I lie in the shade of the shrubby undergrowth and hope that the worst will pass. But at some point we have to leave and keep sweating.
Around 3 pm we arrive at the Picketpost Trailhead. From here Ranger wants to get to the small town of Superior and tries to reach a trail angel located there via his telephone. Just in this moment a car stops behind us and two women get out. Marie-Jo, M. J. for short, has just driven a hiker back to the trail and asks us if she can help us. Ranger is already on board. My plan is to hike a few more miles today. But a warm dinner, a shower, a bed and the opportunity to wash my clothes convince me and I get into the car. Hardly driven off, we see Larryboy standing at the roadside, who actually wants to go back to the trail. As soon as we have listed all the advantages of an overnight stay with M. J., he sits next to me and we all end up in Superior.
Marie-Jo and her husband, who by the way had filled the water cache at Telegraph Canyon, turn out to be the greatest selfless trail angel I meet on the way. They are happy about every story of ours, show us the best supermarket and I eat the best apple pie of my life there. I spend the night together with one of their dogs in the bedroom on a foam mat.
Superstition Mountains
After a restful night, the three of us start into the Superstition Wilderness. This is an area where rattlesnakes are abundant. But the Superstitions provide more than a surprise and incredible views. In a cement tank there are said to be goldfish. At least that's what my app says. Curiosity is the death of the cat and so I walk, although I still have enough water, the small detour to the tank. What I find in there is cloudy, greenish water. No trace of fish. But after I play around a little with my hands in the water, really bright orange goldfish come to the surface and nudge my fingers. In the middle of the unspeakably hot desert. As I learn later, goldfish ensure good water quality by keeping the tank free of algae. The goldfish have been eagerly nurturing there for years.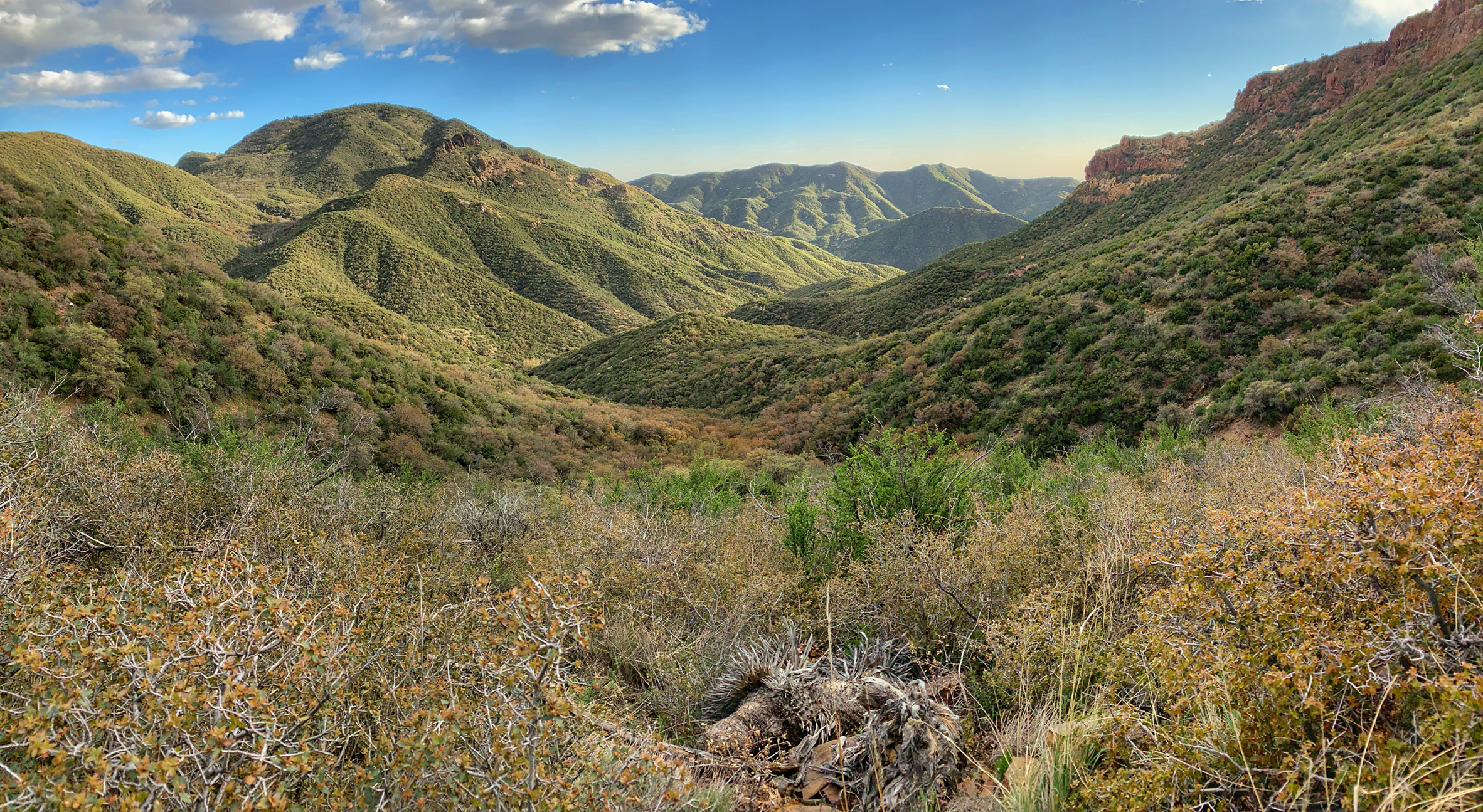 Colourful spring flowers accompany me and the grass along the trail gradually gets higher and higher. So high that I simply disappear into it. I fight my way along the steep path through the wild grass landscape and arrive at Reavis Pass in the late afternoon, where there are several nice campsites waiting for the tired hikers. A room with a view. The whole area here is marked by the name Reavis. Little is known about the so-called "hermit" Elisha Reavis. Once he moved to the Superstition Mountains and found fertile land at a rushing brook. Still today you can find relics of the Reavis Ranch like iron tools and even gnarled apple trees that he planted there.
The Superstition Mountains also seem to be the area where trail builders have forgotten that there are switchbacks. The ascents and descents into the mountains lead straight and extremely steep up and down. Fortunately my backpack is already quite empty and light, because tomorrow there will be supplies at the Roosevelt Lake Marina.
The very first guests
Almost every Arizona Trail thruhiker sends a package to the marina in Roosevelt Lake. Between Superior and the next shopping opportunity in Payson or Pine there are several day walks and the selection of food in the marina shop is poor and expensive and therefore makes it necessary to store self-assembled supply packages. Although the marina accepts (currently still) packages from the hikers, one already notices on arrival that one does not correspond to the target group as a thruhiker. Although both Ranger and I bought some things in the shop, we were informed that we should not fill bottles with water and please keep our boxes far away from the other customers. Charging our devices for the duration of the stay was also prohibited, although we were the very first guests to come to the newly opened restaurant and ordered quite a bit. Some employees seemed to be more annoyed by us and our packages.
Freshly strengthened by burgers and beer we start our ascent to the Four Peaks Wilderness with our bulging and ultra-heavy backpacks. The elevation gain is strenuous and the extra pounds of food often make us stop for micro breaks looking back at Roosevelt Lake. We finally leave the huge Saguaro cacti behind us.
We want to make it to Buckhorn Creek, the first and only water source over many, many miles. Violet lupines, bright yellow poppies and a rainbow in the distance make for more than one photo stop before we arrive in the late afternoon at the cool, crystal clear stream. There is room for exactly two tents. Of course we already know that camping right by the stream will take revenge with lots of condensation, but the place is too nice to look for another one.
As it rains for the first time in the night, we have trouble getting the tents dry for the next morning. Inside and outside thick drops hang from the thin tent walls. But when the sun throws its first rays into the small canyon, the drying process is quickly completed.
During our ascent we always have the four peaks that gave the Four Peaks Wilderness its name within sight, while the trail winds its way along the edge of the mountain. Today is a long and intense day. More than 3,000 feet of elevation gain and almost 21 miles are on my watch as we arrive at Little Pine Flat on the evening of 13 April. The tents are quickly set up and food cooked, as the night is about to get very cold.
[:de]Am Morgen des 9. April brechen Ranger und ich zeitig auf. Es soll der vorerst letzte von drei superheißen Tagen sein – ausgerechnet auf einer Etappe des AZT, auf der es keine Wasserquellen gibt. Eigentlich hatte ich hier im März vor Beginn des Trails einige Wasserkanister lagern wollen, aber mein Mietauto war absolut nicht für die Straßenbedingungen ausgelegt, die hier vorherrschen. Umso glücklicher war ich, als ich vor ein paar Tagen in der Guthook-App las, dass ein Trail Angel hier gerade eben etliche Kanister vorbeigebracht hatte. Und tatsächlich: in der Supplybox am Telegraph Canyon finden wir genug Wasser, um die Etappe auch bei über 30 Grad und greller Sonne zu überstehen.
Eine Siesta zur größten Mittagshitze ist trotzdem notwendig. Schatten ist hier ein Fremdwort. Wenn man kilometerweit nur einen einzigen Baum sieht, dann nimmt man sich dessen an. Etwa zwei Stunden liegen Ranger und ich im Schatten des strauchartigen Gestrüpps und hoffen, dass das Schlimmste vergehen möge. Aber irgendwann müssen wir aufbrechen und weiterschwitzen.
Gegen 15 Uhr kommen wir am Picketpost Trailhead an. Von hier möchte Ranger ins Städtchen Superior gelangen und versucht, über sein Telefon einen dort ansässigen Trail Angel zu erreichen. Just in diesem Augenblick hält hinter uns ein Auto und zwei Frauen steigen aus. Marie-Jo, kurz M. J., hat eine Hikerin gerade zum Trail zurückgefahren und fragt uns, ob sie uns helfen kann. Ranger ist gleich dabei. Mein Plan ist, noch ein paar Kilometer weiter zu wandern und zu zelten. Warmes Abendessen, eine Dusche, ein Bett und die Gelegenheit, Wäsche zu waschen, überzeugen mich aber dann doch und ich steige mit ins Auto. Kaum losgefahren, sehen wir Larryboy am Straßenrand stehen, der eigentlich wieder zurück zum Trail will. Kaum haben wir ihm alle Vorteile einer Übernachtung bei M. J. aufgezählt, sitzt er schon neben mir und es geht nach Superior.
Marie-Jo und ihr Mann, der übrigens den Wassercache am Telegraph Canyon befüllt hatte, entpuppen sich als die großartigsten, selbstlosen Trail Angel, die ich auf dem Weg treffe. Sie freuen sich über jede Anekdote von uns, zeigen uns den besten Supermarkt und ich esse dort den besten Apple Pie meines Lebens. Die Nacht verbringe ich zusammen mit einem ihrer Hunde im Schlafzimmer auf einer Schaumgummimatte.
Superstition Mountains
Nach der erholsamen Nacht starten wir zu dritt in die Superstition Wilderness. Ein Gebiet, in dem es vor Klapperschlangen nur so wimmeln soll. Aber die Superstitions sorgen für mehr als eine Überraschung und unglaublich tolle Ausblicke. In einer Wasserquelle, einer Tiertränke, soll es Goldfische geben. Das sagt zumindest meine App. Neugier ist der Tod der Katze und so wandere ich, obwohl ich noch genug Wasser habe, den kleinen Umweg zu besagter Tränke. Was ich dort im Betonbecken vorfinde, ist trübes, grünliches Wasser. Keine Spur von Fischen. Nachdem ich aber ein wenig mit den Händen im Wasser herumspiele, kommen tatsächlich knallorange Goldfische an die Oberfläche und stupsen meine Finger an. Mitten in der unsäglich heißen Wüste. Wie ich später lerne, sorgen Goldfische für eine gute Wasserqualität, indem sie die Tiertränke algenfrei halten. Die Goldfische sind dort schon seit Jahren eifrig am Pflegen.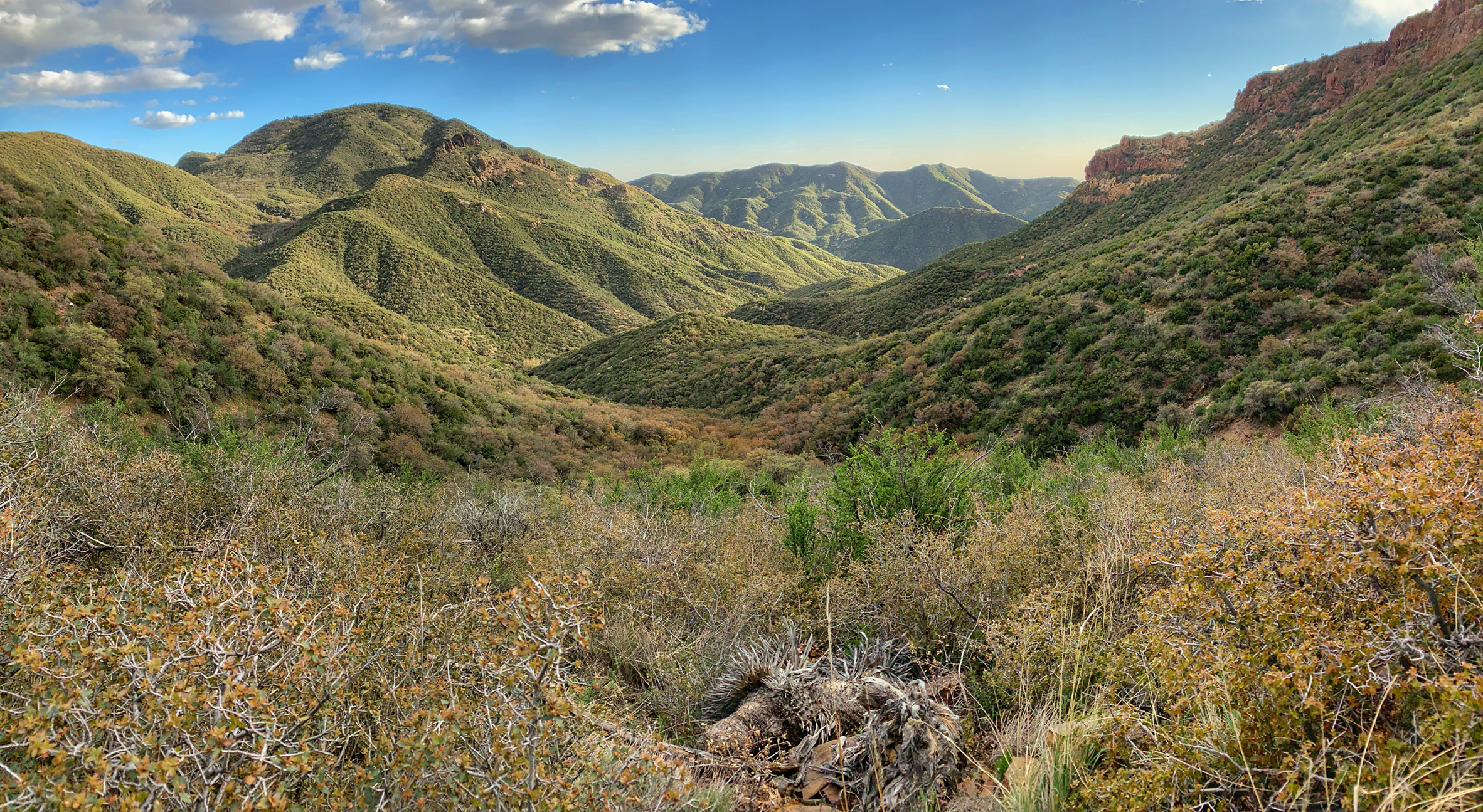 Bunte Frühlingsblumen begleiten mich und das Gras entlang des Trails wird allmählich immer höher. So hoch, dass ich darin einfach verschwinde. Ich kämpfe mich den steilen Pfad durch die wilde Graslandschaft und komme am späten Nachmittag am Reavis Pass an, wo etliche schöne Zeltplätze auf die müden Wanderer warten. A room with a view. Die gesamte Gegend hier ist geprägt vom Namen Reavis. Es ist wenig bekannt über den sogenannten "Einsiedler" Elisha Reavis. Einst zog er in die Superstition Mountains und fand an einem rauschenden Bach fruchtbares Land. Noch heute findet man Relikte der Reavis Ranch wie Eisengerät und sogar knorrige Apfelbäume, die er dort angepflanzt hat.
Die Superstition Mountains scheinen auch das Gebiet zu sein, in dem die Trail-Erbauer vergessen haben, dass es Serpentinen gibt. Die Auf- und Abstiege in die Berge führen schnurstracks und extrem steil nach oben bzw. unten. Zum Glück ist mein Rucksack schon recht leer und leicht, denn morgen gibt es Nachschub an der Roosevelt Lake Marina.
Die allerersten Gäste
Fast jeder Arizona Trail-Thruhiker sendet ein Paket an die Marina in Roosevelt Lake. Zwischen Superior und der nächsten Einkaufsmöglichkeit in Payson oder Pine liegen etliche Tagesmärsche und die Auswahl an Nahrungsmitteln im Shop der Marina ist sehr überschaubar und teuer und macht daher das Lagern selbstzusammengestellter Versorgungspakete notwendig. Obwohl die Marina (derzeit noch) Pakete der Wanderer annimmt, merkt man schon bei der Ankunft, dass man als Thruhiker nicht der Zielgruppe entspricht. Obwohl sowohl Ranger als auch ich einiges im Shop kauften, wurden wir darauf hingewiesen, dass wir uns Flaschen nicht mit Wasser auffüllen dürften und unsere Boxen bitte fernab der anderen Besucher sortieren sollten. Ein Aufladen der Geräte für die Dauer des Aufenthalts wurde ebenfalls untersagt, obwohl wir sogar als allererste Gäste in das neu eröffnete Restaurant einkehrten und nicht wenig bestellten. Einige Angestellte schienen mehr genervt von uns und unseren Paketen zu sein.
Frisch gestärkt von Burger und Bier machen wir uns mit unseren prallgefüllten und ultraschweren Rucksäcken an den Aufstieg in die Four Peaks Wilderness. Die Höhenmeter haben es in sich und die Extra-Kilos an Essen lassen uns oft für Mikropausen anhalten und einen Blick zurück auf Roosevelt Lake werfen. Die riesigen Saguaro-Kakteen lassen wir nun endgültig hinter uns.
Wir wollen es bis Buckhorn Creek schaffen, der ersten und einzigen Wasserquelle über viele, viele Kilometer. Violette Lupinen, strahlend gelber Mohn und ein Regenbogen in der Ferne sorgen mal wieder für mehr als einen Fotostop, bevor wir am späten Nachmittag am kühlen, glasklaren Bach ankommen. Es ist Platz für genau zwei Zelte. Natürlich wissen wir schon jetzt, dass sich das Zelten direkt am Bach mit reichlich Kondensation rächen wird, aber der Platz ist zu schön, um einen anderen zu suchen.
Da es in der Nacht zum ersten Mal richtig regnet, haben wir Mühe, die Zelte zum Aufbruch am nächsten Morgen trocken zu bekommen. Innen und außen hängen dicke Tropfen von der dünnen Plane. Als die Sonne ihre ersten Strahlen in den kleinen Canyon wirft, ist der Trocknungsprozess aber schnell abgeschlossen.
Bei unserem Aufstieg haben wir die vier herausstechenden Gipfel, die der Four Peaks Wilderness ihren Namen gaben, immer in Sichtweite, während sich der Trail an der Bergkante entlang schlängelt. Der Tag heute ist lang und heftig. Mehr als 1.000 Höhenmeter und fast 33 Kilometer stehen auf meiner Uhr, als wir am Abend des 13. April am Little Pine Flat ankommen. Schnell sind die Zelte aufgebaut und Essen gekocht, denn die Nacht schickt sich an, sehr kalt zu werden.
[:]