"Well, you'll come back totally changed!"
No matter who I told two years ago that I just wanted to hike through the entire state of Arizona for two months, the reaction was almost always the same. For many, it was usually associated with the idea of a pilgrimage. Self-discovery and so on. I always tried to put that into perspective in the best possible way. I just wanted to go hiking, enjoy nature. And that just once longer than the usual two to three weeks annual vacation. What difference does that make to me?
Exactly one year ago I finished my thruhike of the Arizona Trail at the Utah state line. Has nothing really changed?
Simplicity
On March 18, 2019 I started my adventure at the Mexican border. On my back a 65 liter backpack with a tent, sleeping pad, quilt, some extra clothes or layers, a solar panel and stuff that I would need on such a trip on foot through the desert. The amount of clothes and utensils was no different than if I had only been on the trail for four days.
My daily routine was absolutely simple: take down the tent, put everything in my backpack, start hiking, eat, find water sources, hike, hike, hike, enjoy the view, find a place for the evening, cook food, prepare sleeping quarters, sleep. And again and again. After a while, every piece of equipment had a permanent place in the backpack. And when nothing was lying around in the morning, everything was packed. It's as simple as that.
Shopping was just as easy. Go into the general store, get a quick overview. A few cookies, lemon cake, tortillas, tuna and chicken and something warm for the evening for X-days. After ten minutes I was usually done. The smaller the shop, the faster the resupply.
Mile after mile of great landscapes, unique postcard motives. Wow-thoughts only alternate with where the best place for a break is. Where is the next water source? How many layers do I put on today? What do I eat from my food bag tonight? Can I pet this snake?
Making contact. No problem. In the outdoors everyone is with the same purpose: get out, enjoy nature, leave the daily routine and the masses behind. Some in their RVs and some – like me – just with their backpack on their back. Somehow, despite the remoteness, I was never alone and yet only surrounded by the people I wanted to spend time with. On the trail, you quickly figure out if you are on the same wavelength and you end up hiking together for weeks. Or you let go after a few hours or even minutes.
This simplicity soon becomes a habit.
Back to reality
From the Hike to the holiday
After these wonderful 800 miles from Mexico to Utah the break from everyday life was not over yet – but it was different. With the rental car we wanted to go from Nevada via Utah to Colorado and California. A great plan, but at the beginning I was totally overwhelmed.
The arrival in Las Vegas with my sparse equipment and the dirty hiking gear put me into a world where I suddenly felt like an alien. With my trekking poles in my hands, the satellite messenger on my backpack and the crumpled water bottles, the dressed-up Las Vegas travellers in the colourful glitter world gave me scornful looks.
During the first big shopping for the big road trip I fled from the huge WalMart after twenty minutes of complete lack of planning. Too many people, too much choice, too much of everything. Switching from my small 65-liter backpack universe to this confusing SUV rental car drove me crazy. Clothes everywhere, which I found superfluous in this amount. Two tents, two sleeping pads, two sleeping bags, boats, paddles, waterproof vests, ice axes, bear canister, fire bowls, wood and gas stoves. And tons of small stuff without system. So much time wasted searching for things. I wanted my simplicity back and more than once I stood frustrated in front of the jam-full car for the first days.
From vacation to everyday life
At some point, every holiday and sabbatical comes to an end. In order to make my return home a little softer, I had planned on another week of buffer time in Berlin – my place of residence – instead of going straight to work the next day as usual.
The return to my apartment felt strange. I had sublet it for the duration of my absence, but there was no sign of that anymore. It was as if I had never been away. Doing the laundry, unpacking luggage, shopping, going through the mail. Everyday life was back. From 100 to zero.
From everyday life to work
"Hello, welcome back. We have some very urgent tasks waiting for you."
Whether I was gone for a week or five months, the reaction of my colleagues was basically the same. Certainly I hadn't expected a huge welcome party. But I would have appreciated a little more interest and care after an unusually long absence with a lot of adventures. Isolated in my (involuntary) individual office I felt quite out of place and excluded.
It took almost a month until my boss had a kind of return conversation with me. Time enough to realize: it can't go on like this. I have to change something. Something that will increase my motivation in the sometimes pointless everyday life of administration. My attempt for an internship in corporate communications in my own company was rejected by my then department head. He thought I would only want to pursue my hobby. It's strange that this can be interpreted as a disadvantage to want to do what you are interested in and studied for. What you "burn for".
Other employers have (also) nice jobs
So the job advertisement of a freelance editor at the provider of route planning and navigation in the outdoor sector "komoot" came out just in the right moment. Komoot – in the southern German language area that means as much as practical and simple. Simplicity was exactly what I was looking for now. So I updated my 13-year-old CV, made an appointment for application photos and sent my documents digitally. About three weeks later I had a video conference with the chief editors and another week later the digital freelancer contract fluttered into my email inbox.
My task: planning exciting tours, creating and describing suitable routes, researching great areas and thus preparing unique adventures in nature for the users. A job that is fun, that makes sense for me. After my self-imposed trial period of one and a half months, I reduced my administrative job to 30 hours a week to have more time for the freelancer job.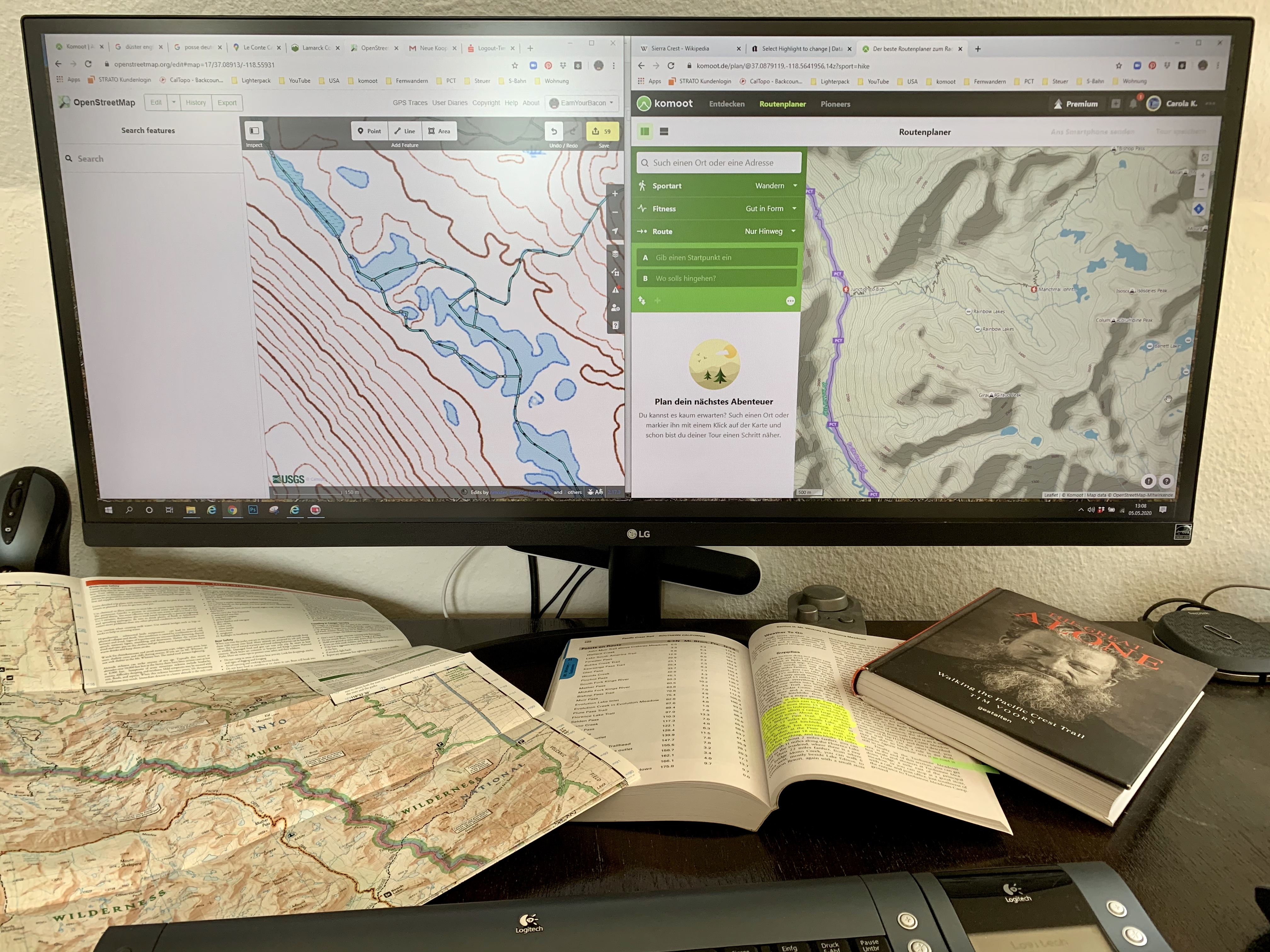 After a good eight months now I can say for myself: the change was absolutely right and important. In the meantime I work much more than before my sabbatical. 48 to 50 hours a week are less the rarity than more the rule. Nevertheless I am much happier and more balanced. It's worth a lot if you can work at least partly with passion on one thing – while the rest pays the rent and secures further sabbaticals.
Komoot as a hundred percent remote job also shows me that it can be absolutely pragmatic on the job and that a company can be successful despite or exactly because of this. An approach from which many companies and administrations can cut a slice. For me it is the step into a changed present and the way into a new future. Germany forever? Certainly not.
A new attitude to life
But it's not only the job that has changed. The weeks in the wilderness, with all its beauty and challenges, have made me extremely relaxed and calm. With the new attitude, not to get upset or annoyed about things that you cannot change, life is much more relaxed. That starts with the weather. It won't rain less if you mope all the time. Instead, there is much more positive energy to look forward to a warm dinner, a dry hut or the next rays of sunshine. Or the new contact lenses, if you've been hiking in the backcountry with just one in your eye for three weeks because the other one broke.
In the meantime I am also ready to leave things to themselves. At the beginning of June 2019, I hiked with my boat into the desert for a five-day river trip to the other end of the Canyonlands National Park – without knowing how I would get back to the car that was parked 80 miles away in Moab. Before the Arizona Trail it was unthinkable for me to get involved in complete lack of planning. But the trail showed me: There is always a solution!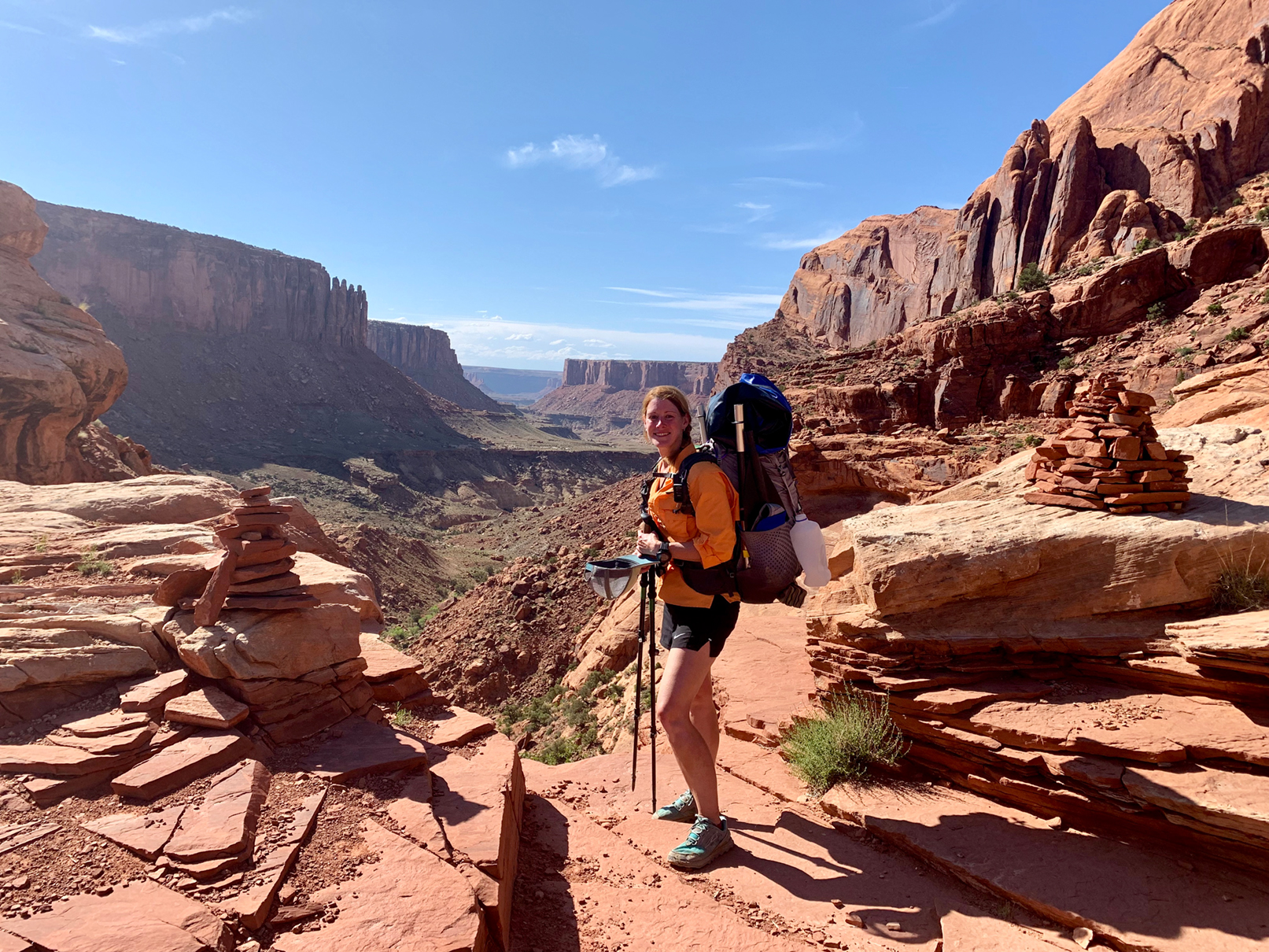 After I had hiked back from the Colorado River through the canyons for two days after the tour, I sat – in the shade of a small bush – next to a trailhead. I made myself a cup of coffee, because I was waiting for the German tourist I had met during the hike, who had offered to take me back to Moab by car. At that moment an older couple asked me if they could give me a ride. Just like that. There is always a solution.
And that's it with hiking?
Of course not. Before I started the Arizona Trail, I asked myself if I would be tired of living in a tent after that. On the contrary. Weeks before crossing the state border to Utah it was obvious to me: the next trail has to come. And it must be longer. 800 miles are gone too fast. So since October I have been saving for the next sabbatical: six months in 2022. The Pacific Crest Trail from Mexico to Canada is firmly planned. Because: Home is, where you pitch your tent.