At the beginning of November in Berlin. Weather is cold, nearly freezing. Clouds cover the sky, most of the tree leaves have already fallen to the ground. It is raining, it's uncomfortable. A typical day in November.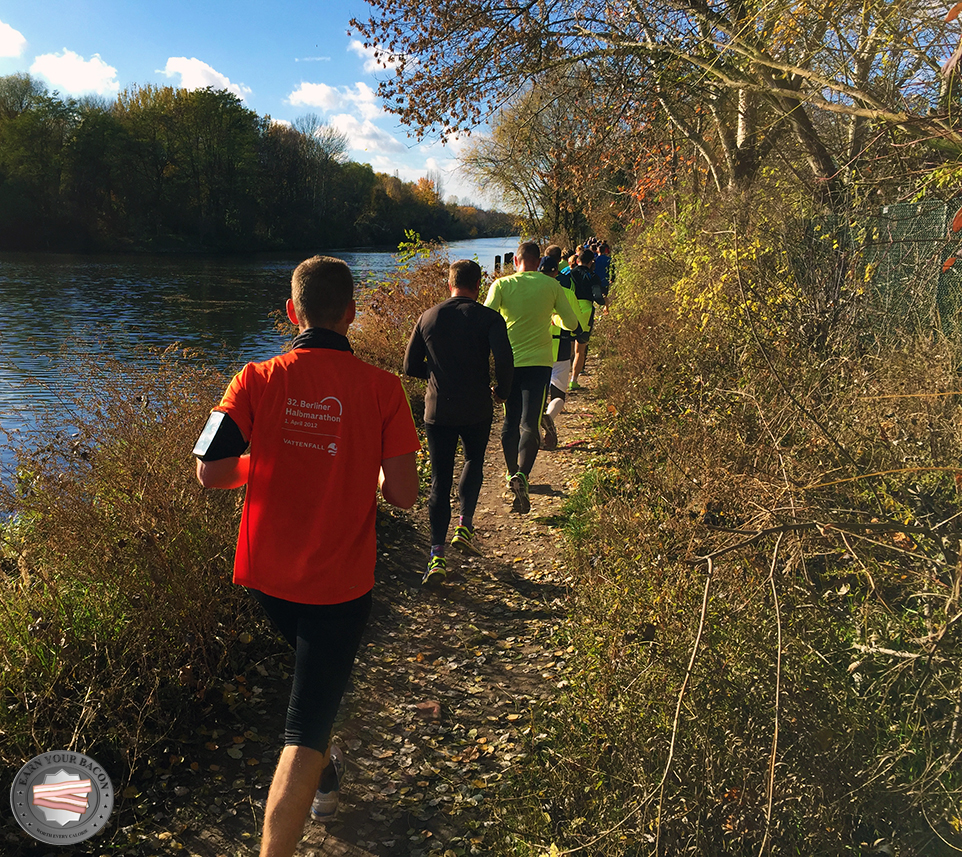 Thankfully, 8th November was not one of these days. 59 °F and sunshine were comforting 1.500 runners meeting in the small town of Teltow to challenge 7k, 14k or 21k. It did not take too long for me to find the suitable running gear for this summerlike weather: short running tights and a T-shirt. Compared to this, I was colder in October, running the XLETIX Challenge.
The Knesebeck Bridge was both start and finish. I was already very used to the course since I run this area every week. So I was quite curious how hundreds of runners would loop on this rooty narrow path returning from the second bridge. Smelled like going in single file.
At 10:30 a.m. all competitors over all distances began to move. A little detour to Teltow, then the course was leading straight to Lichterfelde over the Berlin Wall Trail. Running the first kilometers, it felt like being at the Rennsteiglauf in May. The trail was as narrow and the the number of runners such as high. Getting ahead was nearly impossible due to trees on the left side of the trail. On the right sight, you would might have fallen into the swamp. Arriving at the second bridge as turning point, there was finally enough space for each runner. Then the path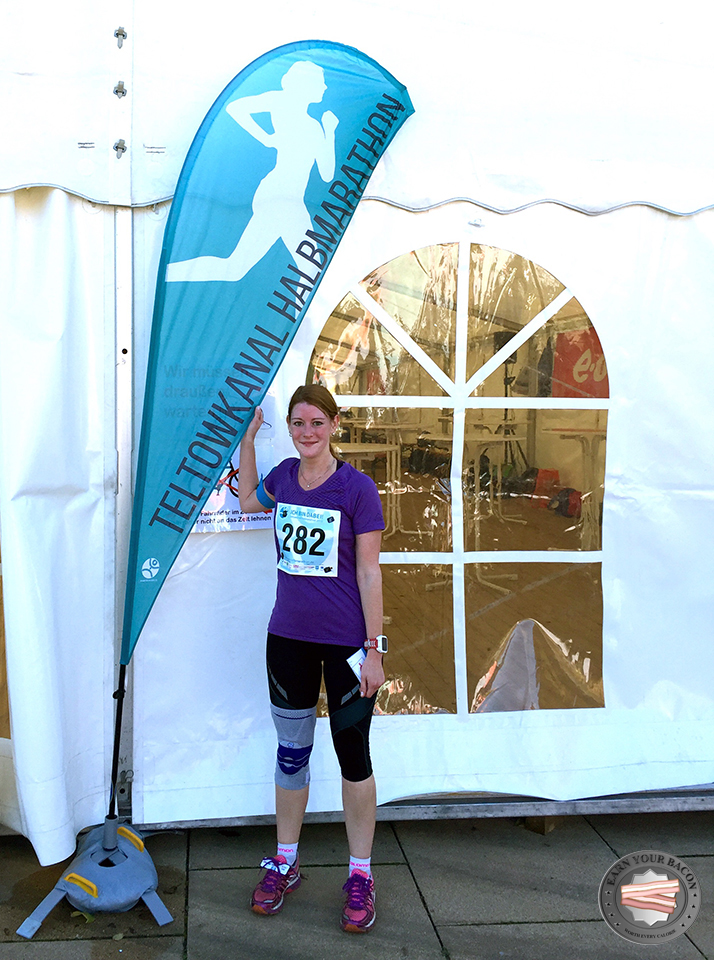 narrowed considerably.
You had to rely on sportsmanship, so that you could go ahead of slower runners.
Like pearls on a string all competitors were going in single file on the trail winding directly at the channel water. Unfortunately, there were – as usual – some sports fans thinking they were at a car race, leaving no space in a curve for faster runners to go ahead. So far for gamesmanship. On the contrary, the preparation of the course was just perfect. Every root, stone or any other tripping hazard had been marked with light colour to prevent runners from falling.
Crossing the small wooden bridge at Stich-Channel, the finish came really close. I was astonished to see some single runners trying to run against the mass of competitors at this narrow trail. Either they did not know that the Teltowkanal Half Marathon took place that day or they just did not care. Wrong-way runners J
I jumped up the stone stairs leading on the bridge right before the finish, taking two stairs at once. Since I knew this course that well, I could go ahead on four runners at this small spot.
After 39:39 minutes I passed the finish line. Given that I dawdled that much before the start and the high number of runners on this narrow course, I was quite satisfied with my finish time. If I wanted to run for a personal best, I would have started right in front of all the other runners. Pity that no medals were issued after the race. Although I knew the fact, I felt a little naked, running through the finish but no one handed out a souvenir.
If it fits my race plan, I will be part of that race again in 2016 – just around my corner.